Whether it's cabinet repair or cabinet refacing, you can turn to a local expert at Furniture Medic by MasterCare Experts, West Chicago and Carol Stream, IL 60185 – 630-480-4863
Why Choose Furniture Medic?
Furniture Medic offers a comprehensive line of quality cabinet doors and drawers, each custom-made to meet your cabinets' specifications. Our specialized technicians are licensed and trained to ensure quality and use only the finest materials to help you achieve the look you want at a price you can afford.  More importantly, the installation process is quick, only taking 3 to 6 days to complete, and is a completely odorless. Cabinet refacing is a convenient and hassle-free solution for homeowners interested in updating the look of their kitchen or bath without the hassle of tearing out cabinetry.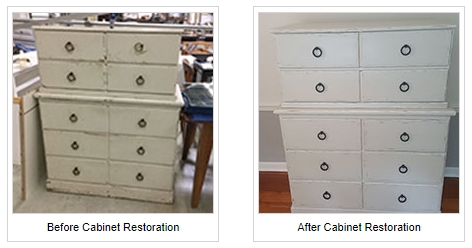 For less than the cost of your standard kitchen cabinet installation you too can achieve the look of a brand-new, custom-designed kitchen without the expense of all new cabinets. Furniture Medic by MasterCare Experts will reface your cabinets with custom-made doors and drawers installed to fit precisely over your existing openings in West Chicago and Carol Stream, IL.
---
Recent Reviews
---
Review by Pam Perrine
Disaster Restoration
Rating

"Over 40 years ago my father made me a small top-shelf piece with miniature spindle railings that fenced in the content of each shelf and he used a dark walnut stain. I was really worried about breaking the spindles by lightening the color to a honey oak color. Furniture Medic are Masters! They did a fantastic job! My father would have definitely approved."
---
Review by Eileen Gutierrez
Disaster Restoration
Rating

"Furniture Medic did a beautiful job refinishing my golden oak tables and worked with me to get the right shade of mahogany I was looking for. They were all very personable and professional and price was reasonable for the great work they do. I highly recommend this business."
---
Review by Ken Siegel
Disaster Restoration
Rating

"The Furniture Medic redid intricate canning of a 125 year old chair that I thought was not repairable. It looks great, and took less than 2 weeks!"
---
See All Reviews