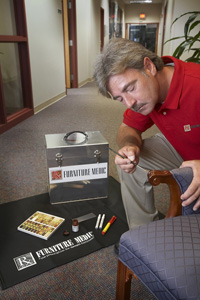 630-480-4863
Furniture Medic by MasterCare Experts in West Chicago and Carol Stream, IL believe preserving furniture is a great way to keep your family heirlooms and pieces preserved and looking like new. By finding a reliable furniture refinishing company, you will find quality and expert services that fit your needs.
The expert craftsmen at Furniture Medic by MasterCare Experts will work within your home in West Chicago or Carol Stream to provide the appropriate refinishing of your furniture. Since your furniture and antiques can be a substantial investment, they know the refinishing process can protect that investment and return it to its original state.
Wood furniture refinishing can be done on: Cabinetry, Hardwood Floors, Millwork, Paneling, Doors, Banisters, Mantels, Tables, Chairs, Desks, Antiques.
Furniture is an investment that lasts for generations. Keep yours in beautiful condition by protecting it from common household catastrophes. Here are some helpful hints to help you keep your furniture looking its best:
Avoid all cleaners containing ammonia. It can damage your wood furniture.
Frequently dust with a soft, dry, clean cloth.
Make sure your furniture polish does not contain a high amount of alcohol as it can damage wood finishes.
Use coasters with felt or cork bottoms to reduce water rings.
Protect furniture from hot serving dishes with a table cloth, oven mitt or hot plate.
Be careful when cleaning, never allow moisture to be trapped between glass and a wood surface. Make sure surfaces are completely dry before the glass is replaced.
Position furniture away from direct sunlight. Sunlight dries out wood surfaces.
If you have pets that enjoy getting on wood chairs and table tops, protect those surfaces with a table cloth, chair cover or protective pad. This is the best way to prevent damage from pet nails from scratching the surface of those pieces.
If you need furniture refinishing or enhancing the natural beauty of your wood furnishings, you can turn to a local expert at Furniture Medic by MasterCare Experts in West Chicago and Carol Stream, IL 60185, at (630) 480-4863.
---
Recent Reviews
---
Review by Pam Perrine
Disaster Restoration
Rating

"Over 40 years ago my father made me a small top-shelf piece with miniature spindle railings that fenced in the content of each shelf and he used a dark walnut stain. I was really worried about breaking the spindles by lightening the color to a honey oak color. Furniture Medic are Masters! They did a fantastic job! My father would have definitely approved."
---
Review by Eileen Gutierrez
Disaster Restoration
Rating

"Furniture Medic did a beautiful job refinishing my golden oak tables and worked with me to get the right shade of mahogany I was looking for. They were all very personable and professional and price was reasonable for the great work they do. I highly recommend this business."
---
Review by Ken Siegel
Disaster Restoration
Rating

"The Furniture Medic redid intricate canning of a 125 year old chair that I thought was not repairable. It looks great, and took less than 2 weeks!"
---
See All Reviews