Furniture Medic has a worldwide reputation of providing high quality wood furniture repair and refinishing services and at Furniture Medic by MasterCare Experts, we can provide this superior level of service to repair and restore your wooden chairs.  Most homes contain several types of wooden chairs from antique rocking chairs to wooden dining room and kitchen sets.  Wooden rockers and dining room chairs add a touch of natural elegance to your home, but any damage or wearing of the finish can diminish their look.  Furniture Medic by MasterCare Experts provides wood chair repair and restoration services in Naperville and Aurora, IL to repair and refinish your damaged or worn out wooden chairs.  Our expert craftsmen can repair or replace broken parts and apply a new finish to restore the original appearance or create a new look.
Wooden Chair Repair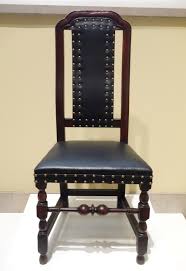 Wooden chairs are vulnerable to all types of damage from regular use.  They may sustain surface damage like scratches, watermarks, and burn marks, or damage to the legs, spindles and other parts of the chair.  If your wooden chairs have sustained minor surface damage or damage to certain parts, it is not necessary to replace them.  Our craftsmen at Furniture Medic by MasterCare Experts can repair minor surface damage and broken parts so that you can continue using your dining room set or favorite rocking chair.
Our wood chair repair services consist of the following:
Precision Surface Repair: We can repair gouges, scratches, burns, dents, watermarks, and other types of surface damage.
Damage Repair/ Re-Gluing: We will repair broken spindles, legs, and chair backs and glue them in place.
Replacement Chair Spindles: If your chair spindles are broken beyond repair, we can replace them with matching spindles.
Wood Chair Restoration
Like all wooden furniture, the finish on wooden chairs is vulnerable to general wear and discoloration, especially on chairs that are used on a daily basis.  Wearing of the finish can cause your wooden chairs to look dull and lifeless.  Our professionals at Furniture Medic by MasterCare Experts can breathe new life into your worn-out chairs with our wood chair restoration and refinishing services.  We can restore the original finish to bring back the chair's original luster, or apply a different finish to give your chair a new color or appearance.  We have a variety of stain and paint colors for you to choose from for a custom look.
Before you decide to replace your broken or worn out wooden chairs, talk to the professionals of Furniture Medic by MasterCare Experts about your repair and refinishing options.  We will repair the broken parts of your wooden chairs and apply a new finish to spare you the trouble and expense of replacing them.  You can reach us at (630) 480-4863 for more information about our wood chair repair and restoration services in Naperville and Aurora, IL.
---
Recent Reviews
---
Review by Pam Perrine
Disaster Restoration
Rating

"Over 40 years ago my father made me a small top-shelf piece with miniature spindle railings that fenced in the content of each shelf and he used a dark walnut stain. I was really worried about breaking the spindles by lightening the color to a honey oak color. Furniture Medic are Masters! They did a fantastic job! My father would have definitely approved."
---
Review by Eileen Gutierrez
Disaster Restoration
Rating

"Furniture Medic did a beautiful job refinishing my golden oak tables and worked with me to get the right shade of mahogany I was looking for. They were all very personable and professional and price was reasonable for the great work they do. I highly recommend this business."
---
Review by Ken Siegel
Disaster Restoration
Rating

"The Furniture Medic redid intricate canning of a 125 year old chair that I thought was not repairable. It looks great, and took less than 2 weeks!"
---
See All Reviews