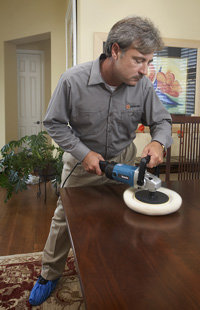 Furniture Medic by MasterCare Experts in Aurora and Naperville, IL has years of experience in furniture repair and furniture restoration.  They believe that their expertise can restore your furniture to its original condition. They handle any furniture repair such as broken chairs, desks and tables as well as antiques. Furniture repair should include the repairing of scratches, dents, watermarks, burns and gouges.
Don't let your new or old furniture go to waste because of damage or imperfections. Any broken items or missing pieces can be expertly created or fixed to bring your furniture back to life.
Furniture Enhancement
Furniture Medic provides a full array of commercial furniture and wood repair as well as image enhancement services including:
Buffing
Polishing
Sheen Adjustment
Color Touch-up
Our image enhancement process allows you to maintain the wood surfaces in your office with convenient on-site services by Furniture Medic. We work around your schedule to keep your conference tables, desks, paneling and moldings looking great, so you can present your best image to your customers and staff.
Whether it's restoring a family heirloom to its original condition or enhancing the natural beauty of your wood furnishings, you can turn to the expert furniture repair technicians at Furniture Medic by MasterCare Experts in Aurora and Naperville, IL 60540. Call them today at (630) 480-4863.
---
Recent Reviews
---
Review by Pam Perrine
Disaster Restoration
Rating

"Over 40 years ago my father made me a small top-shelf piece with miniature spindle railings that fenced in the content of each shelf and he used a dark walnut stain. I was really worried about breaking the spindles by lightening the color to a honey oak color. Furniture Medic are Masters! They did a fantastic job! My father would have definitely approved."
---
Review by Eileen Gutierrez
Disaster Restoration
Rating

"Furniture Medic did a beautiful job refinishing my golden oak tables and worked with me to get the right shade of mahogany I was looking for. They were all very personable and professional and price was reasonable for the great work they do. I highly recommend this business."
---
Review by Ken Siegel
Disaster Restoration
Rating

"The Furniture Medic redid intricate canning of a 125 year old chair that I thought was not repairable. It looks great, and took less than 2 weeks!"
---
See All Reviews