Winters in Webster, NY, and neighboring areas feature harsh temperatures. The severe cold can cause water within pipes to freeze up and expand which will eventually cause the pipe to burst open from the pressure. Frozen pipes that have burst will spread water throughout your home, causing water damage that needs to be restored.
RestorationMaster provides frozen pipe damage restoration services in Webster, NY, and the surrounding areas. With these services, we provide clean up and restoration for properties that have been affected by burst pipes. We will extract water from the property and dry the affected areas, as well as restore any resulting damage.
Frozen Pipes in New York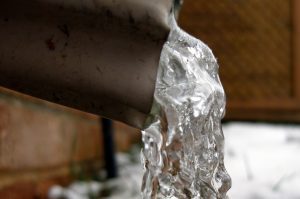 When winter weather hits the Webster, NY area, you must pay attention to the pipes in your home, because they can freeze which often leads to a burst. With burst pipes comes uninvited water into your property, causing extensive water damage.
If a pipe does in fact burst, then you need to turn the water off right away. Afterwards, get in touch with us for our frozen pipe damage restoration services. We use advanced equipment to remove moisture from damaged building materials and furnishings and extract standing water from your property. Next, we'll restore damaged areas and check for mold growth. To limit the amount of water damage that your property faces in the aftermath of a burst pipe, it is important to act immediately.
Preventing Frozen Pipes
If you take the necessary steps to prevent your pipes from freezing, you can avoid pipe bursts from occurring in your property. Use the following tips to prevent frozen pipes:
Turn your faucets on and let a slow drip run from them. This constant water movement prevents the water from freezing within the pipes.
Let pipes beneath sinks heat up by opening the cabinet doors underneath them.
Have any pipes located in vulnerable areas insulated using electrical tape or pipe insulation.
In areas where pipes are not insulated, use a space heater, but make sure you use the space heater safely.
During the winter, turn off the outside water supply, and store garden hoses inside.
Thawing Frozen Pipes
Poor water pressure and pipes with ice or frost are signs that a pipe has likely frozen. Use the following tips to thaw the frozen pipe:
Spot which line has the frozen pipe.
Locate the frozen section by tracing the pipe line.
Look out for pipes that have ice, frost, or bulges.
Use a heat lamp or hair dryer on the pipe to thaw it, but never use any flame, including a blowtorch, to thaw it.
If you need to, remove drywall so you can reach the frozen pipe.
Find the faucet at the end of the affected pipe line and turn it on to a trickle.
Considering the severe damage burst pipes can cause to your property, you should do what you can to prevent your pipes from freezing. If you experience a burst pipe on your property in Webster, NY, then turn the water supply off right away, and call (585) 643-6222 for RestorationMaster's frozen pipe damage restoration services.