There are many people around Collierville and the greater Memphis area that have problems with hoarding and it is the responsibility of the family and friends to approach the hoarder about cleaning out their homes. People with hoarding disorders are extreme collectors that may hoard objects such as personal belongings, paper, trash, and even animals. When the collected hoard becomes too large, it creates a very dangerous situation as it may block pathways in the home or harbor dust and mold that could cause health problems. RestorationMaster offers hoarder cleaning services in Collierville, TN to help the friends and families of those that hoard clean out their homes.
Hoarder Cleanup Services for Collierville, TN
The staff of RestorationMaster approaches each hoarder cleaning service with a sense of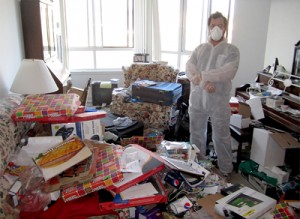 compassion because we understand the sensitivity involved with the situation. Our technicians have been specially trained and certified to clean up hoards by removing the hoarded objects and cleaning, sanitizing, and deodorizing the entire home. We have also been trained to safely clean up biohazard materials such as bodily fluids and decomposed animals that may be found in the hoard.
Every technician of RestorationMaster is licensed, bonded, and insured and works in compliance with the rules and regulations of OSHA, the Department of Transportation, and the EPA when performing hoarder clean up. Our hoarder cleaning services include:
Decontamination: We remove dangerous biohazard materials including blood, decomposed animals, and mold.
Deodorization: We use powerful deodorizers to remove strong odors.
Proper Disposal: We properly transport all biohazard materials to a licensed facility that can safely dispose of them and we also make sure to salvage important personal items such as photographs and other keepsakes.
If you have a close friend or family member that struggles with hoarding issues in the Collierville area, call RestorationMaster for hoarder cleaning services. The RestorationMaster franchise is the only service provider near Collierville that has completed a national expert class in hoarder and estate cleaning. We are on call 24 hours a day at (901)410-4664 to respond to your hoarder cleaning needs.