(423) 933-2662
At times a disaster can be so severe that it leaves your home in shambles. The damage can be so serious that remediation services alone will not be able to make your home safe to live. When this happens, it is important that you contact a team that has the experience and skill set necessary to rebuild your home. ServiceMaster Cleaning & Restoration has technicians with years of experience who are equipped to restore your home. Our technicians will repair all damage from the disaster and rebuild your home or business in Cleveland, TN to its previous condition.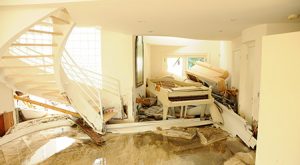 If your home has severe structural damage, be sure to keep all friends and family out of the house. When your home is damaged severely, it is not safe to live in. We know how hard it can be finding another place to live temporarily, but keeping your family safe is the most important thing. We try to make this process as easy as possible for you with constant communication and being thorough with all of our services. Our contractors have years of experience in the field and are committed to excellence. We are able to handle all different types of houses, buildings, commercial buildings, apartment buildings, and much more. We also offer post construction cleaning where we remove all dust and debris from the construction site.
Our reconstruction services include the following:
Carpentry and Framing
Permits and Licenses
Roof Repair and Replacement
Remodeling
Plumbing
Painting
Wallpaper Removal
Carpet and Flooring
Window Treatments
Post Construction Cleaning
If you have gone through a major disaster and are located in the Cleveland, TN area, contact ServiceMaster Cleaning & Restoration immediately! We are able to rebuild severely damaged homes and provide reconstruction services when the homes are completely destroyed. We are available 24 hours a day, 365 days a year at (423) 933-2662 for reconstruction services in Cleveland, TN.
Recent Reviews
Review by

S.R..
Rating

"You were quick and in contact with me in a short time frame to let me know that you would be helping me and on the way to arrive at around a certain time.
---
Review by

B.H.
Rating

" I was pleased with how much better the air smelled after ozone fans, cleaning, etc. People were friendly. I would use Service Master again. Thank you."
---
Review by

B.S.
Rating

"The tech was very knowledgeable and professional. They worked very quickly with little to no interruption wo our daily life. Very impressed with the Josh my service tech.."