RestorationMaster, The Woodlands TX
The HVAC system is an important system in a home or building because it is responsible for circulating the heating and cooling.  However, it is easy to forget to provide maintenance as the HVAC system is largely ignored unless it malfunctions.  As the system runs the heating or cooling, it draws in air from the home or building which consists of dust and other airborne debris.  This debris gathers within the air ducts and on the component parts which can lower its efficiency and increase the risk of a breakdown.  Your local RestorationMaster partner provides air duct cleaning services for homes and businesses in The Woodlands, TX to remove built up dust and debris from the air ducts.  These services can significantly improve the energy efficiency of your HVAC system as well as contribute to healthier breathing air in your home.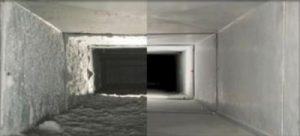 In a given year, it has been found that about 40 pounds of dust circulates through the air in a home and much of this dust ends up gathering within the air ducts.  As this debris builds, it restricts air flow and causes the machine to work harder and less efficiently which increases the risk of a breakdown and results in higher heating and cooling bills.  This debris may also find its way back into the breathing air when the system runs, contributing to poor indoor air quality that can trigger allergies and other respiratory problems.
Commercial and Residential Air Duct Cleaning Services
You should have your air ducts cleaned about once every few years to help maintain its efficiency for lower energy bills and improve the indoor air quality for a healthier environment.  The technicians of your local RestorationMaster partner use state-of-the-art cleaning equipment to thoroughly remove all built up dust and debris from the HVAC system including the air ducts and component parts.
We can effectively clean the following with our air duct cleaning services:
Air ducts
Vents and registers
Drip pans
Heat exchanges
Grilles and diffusers
Heating and cooling coils
Fan motor and housing
Air handing unit housing
You may need air duct cleaning services in your home or building if you notice that your heating or cooling bills are higher than normal or if there is dust building up on the vents and registers.  If your home or building in The Woodlands, TX 77375 area could benefit from professional air duct cleaning services, contact your local RestorationMaster partner.  You can call us 24 hours a day at (281) 612-8739 for more about our air duct cleaning services.