Any natural disaster, including floods, fires, severe storms, and major accidents, can result in serious damage to a home or building very quickly.  When a commercial building experiences serious damage, it can limit or even stop business operations.  When a home is severely damaged, it can affect the daily lives of those who live in the home.  In these scenarios, it is very important to call a trustworthy professional that can restore and rebuild your home or building so you can get back to your daily life.
Target Restoration is a licensed contractor that provides complete reconstruction services for homes and businesses in Waco, TX and the surrounding communities of central Texas that have sustained severe damage.  Our IICRC certified technicians are available to respond 24 hours a day and will arrive within 30 to 60 minutes of your call to stabilize your property and begin the restoration work.
Fast Emergency Response 24/7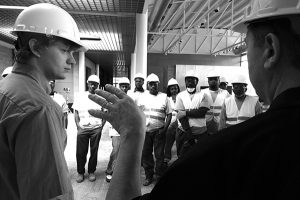 Target Restoration is ready to respond to emergencies in central Texas and throughout the state of Texas 24 hours a day.  We understand that the most property damage happens within the first 24-48 hours of the disaster occurring and our fast response helps to limit this secondary damage.  Our reconstruction team is licensed, certified, and equipped to provide restoration services as well as full reconstruction to get your home or business rebuilt to its original condition.  We are also HIPAA compliant, so you can expect complete confidentiality.
Our disaster reconstruction services include the following:
Safety and risk assessment
Emergency board-up
Emergency roof tarping
Emergency power generation
Disaster restoration
Roof and structural damage repair
Disaster Reconstruction: First Steps
When we arrive at your property, we will immediately do a full evaluation of the damage to assess the safety and risk of further damage.  After our evaluation, we will begin to contain the damage and stabilize your property to prevent additional damage until the reconstruction begins.  If there is a hazardous material on your property, we will work to remove the dangerous material and eliminate the risk of negative health effects.  Our technicians are licensed by the state of Texas to clean up and remove hazardous materials.
We provide the following to help stabilize your home or building:
Emergency board up: Major damage to the exterior of your home can leave it vulnerable to animals, moisture, mold, and other harmful elements. We will immediately board up holes and broken windows to keep intrusive elements out of the building.
Roof tarping: If the roof of a home or building is damaged, it is susceptible to leaks and additional damage that can further expose the building. We will provide tarping to cover the roof and keep the interior of the building protected.
Emergency power generation: Certain businesses must always have power to run important machinery and equipment. We can provide emergency power with our on-site generators as well as mobile climate control.  This is especially important for hospitals that need to keep their equipment running.
Disaster restoration: Whether your property was affected by a flood, fire, major storm, sewage backup, or severe mold growth, Target Restoration can provide complete disaster restoration services to reverse the damage. Our IICRC certified Master Restorers are experts in water damage restoration and drying, fire and smoke damage cleanup, and the removal of dangerous materials like mold and sewage.
Reconstruction: Rebuilding the Damage
Target Restoration is a fully licensed general contractor that provides construction services to rebuild homes and commercial buildings following a disaster.  Our experienced technicians can handle the planning and execution of a construction plan to repair any type of damage to the interior and exterior of the property.  Our expertise in construction combined with our high-quality disaster restoration services makes us one of the top full-service restoration companies serving central Texas.
Commercial Relocation
Major property damage is especially harmful to businesses because they must stop or limit their operations which will cause them to lose more money.  We can help businesses keep their operations going through the restoration process with our commercial relocation services.  Our technicians will carefully pack up and transport the materials you need to operate to a temporary site while the reconstruction takes place.  When the reconstruction on your building has finished, we will transport your materials back to your building.
Exterior Reconstruction
Disasters such as fires and major storms involving strong wind and hail can do significant damage to the exterior of a home or building.  We are ready to repair any level of damage to the exterior of homes, multi-home properties, and all types of commercial building.  Our reconstruction experts can repair the following:
Foundation including the slab and walls
Roofing and siding
Concrete surfaces
Brick structures
Decks and balconies
Garages and covered parking
Parking and fencing
Interior Reconstruction
Any type of disaster can lead to serious interior damage in a home or building.  It is very important that interior damage is restored and repaired right away because it will only continue to get worse.  Our technicians can effectively repair the following interior elements:
Walls and ceilings
Attics and crawlspaces
Flooring and subfloors
Windows and doors
Cabinetry
Carpeting
Drapery, upholstery, and other textiles
Masonry
If you experience a major disaster that has caused serious damage to your property in central Texas, do not hesitate to call Target Restoration.  Our certified staff is ready and willing to help homes and businesses in our community that need to recover quickly from a major disaster.  We are licensed, insured, prepared, and equipped to handle any level of damage with our reconstruction services.  We also help homeowners and business owners through the claims process with their insurance carriers.
Emergency Response
You can reach Target Restoration for emergency disaster restoration and reconstruction services in Waco, TX and the surrounding central Texas communities by calling (254) 730-4744.  We are ready to respond to emergencies 24 hours a day.
---
Related Services:
Reconstruction Services in Killeen, TX
Emergency Construction in Pfluggerville, TX
Reconstruction Professionals in Temple, TX
Construction Company in Belton, TX
Emergency Reconstruction in Cedar Park, TX
Construction Company in Tomball, TX
---
Recent Reviews
---