A fire can begin and spread within a home or building very quickly, and the damage it causes within just the first few minutes can be life changing.  The flames of the fire can tear through most structural elements and building materials and the smoke and soot created by the fire can spread even further and cause damage to the affected objects and surfaces.  As soon as the fire department extinguishes the fire and clears your property, you must call a professional to begin the restoration process.
Target Restoration provides complete fire and smoke damage restoration services in Waco, TX to help homes and commercial properties damaged by a fire.  We will arrive at your property in less than an hour to fully assess the damage and form a restoration plan that includes everything from cleanup and deodorization to reconstruction.
Emergency Response to Fire Damage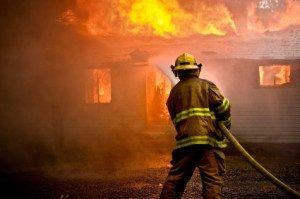 After a fire is put out, it is still possible for your property to experience further damage due to instability or the effects of corrosive byproducts like smoke and soot.  This is why our licensed technicians at Target Restoration are available 24 hours a day to answer emergency calls for fire damage in the Waco, TX area.  We begin work immediately upon arrival by evaluating the damage and providing emergency board-ups and roof tarping if needed to secure the building.
Each of our technicians are IICRC certified to restore damage caused by fire and smoke, and our project managers are IICRC licensed Master Fire Restorers.
We completely restore homes and commercial properties that have been affected by the following types of fires:
Chemical, oil, or combustible material fires
Grease or kitchen fires in homes and restaurants
Electrical fires in homes and commercial buildings
Fire Damage Restoration Process
Immediately after the fire is extinguished, your home or building will be a complete mess with burnt or melted materials, debris, and soot spread throughout the property.  After your home or building has been effectively secured, we will start the cleanup and restoration process by removing damaged materials and determining what can and cannot be restored.
Our technicians can effectively identify and handle materials that have been melted, burned, or tarnished by the smoke and soot.  Materials that cannot be saved will be discarded while items that can be salvaged will be set aside for cleaning.
Content Cleaning and Restoration: Target Restoration can restore a range of objects that have been damaged by smoke or soot including furniture, art work, photos, documents and electronic devices. The faster we respond and begin the restoration of your damaged content, the better the chance that your items can be fully salvaged.
Soot Removal: Soot is a byproduct of fire and smoke that can spread long after the fire has been put out. Soot is acidic and causes damage to affected objects and materials such as discoloration and etching which will become permanent without quick cleaning.  The presence of soot also creates a hazardous environment which is dangerous to your health.  We treat soot damaged materials using chem sponges which remove soot damage from the surface, and thermal fogging which extracts soot ingrained in porous materials and textiles.
Smoke Odor Removal: In addition to the soot and residue smoke creates, it also leaves behind a distinct foul odor. The odor from smoke can spread through the entire property and get absorbed by textiles, wood, and other porous materials.  We can remove smoke odors effectively from the affected materials using ozone treatments and thermal fogging which extracts the smoke odor using heated chemical steam.
Reconstruction of Fire Damage
It is very common for fires to cause very serious damage to the exterior and interior of a home or building.  In many of these cases, reconstruction services are needed to repair the damage.  Target Restoration is a licensed general contractor that can provide complete construction services to repair the interior and exterior damage caused by fire and smoke.
Exterior Damage
At Target Restoration, we can restore damage to the roof, siding, windows, and doors on the outside of a home or commercial building.  We make sure our construction work matches the details of your building's architecture including the materials and design.  Our technicians can also work on historic homes and restore them to their original appearance.
We always do a full evaluation of the exterior of a fire damaged home or building to find fire and smoke damage that may not be obvious at first.
Our construction services can cover the repair or replacement of the following:
Siding
Windows
Roof
Doors
Gutters
Paint
Brick
Garage doors
Fencing
Concrete for driveways and sidewalks
Interior Damage
The interior of a fire damaged home or building is generally affected by smoke, soot, and the fire itself.  Therefore, many materials on the interior of the building will need to be cleaned and restored or repaired and replaced depending on the level of damage.
We can effectively repair and restore the following materials:
Drywall
Cabinetry
Framing
Flooring
Brick
Lighting
Piping
Foundations
Air ducts and HVAC systems
Target Restoration is one of the best-established fire damage restoration service providers in central Texas with over 100 years of combined experience.  We have been voted the best emergency restoration company in the Waco, TX area several times.  When we arrive to your property, you can expect quick, efficient restoration work done with quality and integrity.
Our licensed Master Fire Restorers will oversee every step of the fire damage restoration process from the initial stabilization to the final reconstruction.  We use only the best materials to rebuild and restore your home or business following a fire.  We will also help you work through your claim with your insurance provider.
Contact Us
Give Target Restoration a call at (254) 730-4744 for emergency fire damage restoration services from the best in central Texas.
---
Related Fire and Smoke Damage Restoration Services:
Fire Mitigation Services in Tomball, TX
Smoke Damage Restoration Company in Wichita Falls, TX
Fire Damage Repair in College Station, TX
Fire and SmoKe Damage Repair in Lawton, OK
Fire and Smore Mitigation in Duncan, OK
---
Recent Reviews
---