You may not realize it, but there are many biohazard materials that you may end up encountering for one reason or another.  Biohazard materials such as sewage, mold, asbestos, lead, and organic materials like blood contain harmful viruses and bacteria that can spread infection or disease.  It is very important to avoid any contact with biohazard materials because handling them improperly will only increase the risk of negative health effects or further contamination.  You must contact a licensed professional that can safely remove the biohazard materials and effectively sanitize the affected areas.
Target Restoration provides biohazard cleanup services that include biohazard and trauma scene cleaning in Waco, TX.  We are licensed and certified to clean up a range of dangerous biohazard materials including sewage, organic materials, mold, lead, and asbestos.  Our technicians use the most effective and safest methods to ensure that all dangerous materials are removed from your home or business and that your property is sanitized and restored to sanitary conditions.
Licensed Biohazard Cleaning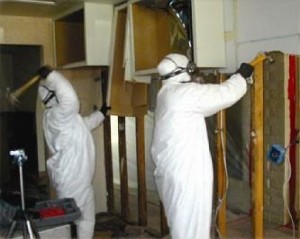 When you call Target Restoration for environmental cleaning services, you can expect the response of a team of certified technicians ready to help those in their community.  We understand the danger and sensitivity of these situations and we always take a cautious and respectful approach.  Our technicians use personal protective equipment (PPE) and advanced cleaning products and methods to safely remove all types of biohazard materials and return the area to a safe condition.
We will arrive to provide biohazard cleaning services with the following equipment:
Personal protective equipment (PPE)
Air purifiers
Industrial cleaning supplies and high-grade disinfectants
Tools and containers
Waste removal solvents
Deodorizers
Ladders and long reach handles
You can contact Target Restoration to provide environmental cleaning services for the following scenarios:
Trauma scene cleaning: Serious accidents, injuries, and violent crimes are an unfortunate occurrence in our society. When a serious injury or death occurs, the scene is very dangerous because of the presence of blood and other bodily fluids.  These materials are possibly infectious and should only be cleaned up by a certified professional.  Our technicians can safely clean up dangerous organic materials like blood and bodily fluids and restore the scene so that there is no evidence of the tragedy.  We also take a respectful approach to these situations to support those grieving a loss.
Asbestos removal: Asbestos was once a common building material, but it has been banned by the EPA since 1979 because exposure to asbestos has been linked to different types of cancer. There are still many older homes and buildings that may have asbestos for insulation.  Our technicians are certified to remove asbestos and we have the proper equipment to remove it safely.  We can remove asbestos from historical homes and buildings without causing damage to the building.
Lead removal: Lead was commonly used in pipes and paint in older homes and buildings, but it was also banned by the EPA in 1979. Exposure to lead is very dangerous, especially if your home or building has lead pipes that deliver your tap water.  Target Restoration provides award winning lead evaluation and removal services to remove the dangerous materials from homes and commercial properties.  We can thoroughly inspect homes and buildings for lead based paint and pipes and remove them safely.
Sewage: Sewage often ends up indoors due to sewage backups or natural flooding that is contaminated with sewage when it enters the building. The waste materials in sewage may contain harmful toxins that can easily spread illness.  Our technicians are properly equipped to remove sewage water and restore the affected area to a safe and sanitary condition.
You should never mess around with dangerous biohazard materials on your property.  If there is a dangerous material in your home or business in Waco, TX, contact Target Restoration to handle it with our biohazard cleaning services.  We are among the top environmental cleaning service providers in central Texas and we have the proper licensing, training, and equipment to safely remove many types of biohazard materials.
Contact Us
Contact Target Restoration by calling (254) 730-4744 for the most trusted environmental and biohazard cleaning in central Texas.
---
Related Services:
Biohazard Cleanup in Pfluggerville, TX
Biohazard Cleaning Services in Belton, TX
Biohazard Cleaning Professionals in Temple, TX
Biohazard Cleanup Services in Cedar Park, TX
Biohazard Cleaning in Killeen, TX
Biohazard and Trauma Cleanup in Tomball, TX
---
Recent Reviews
---