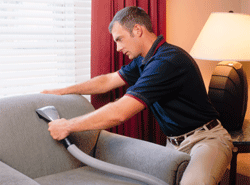 Upholstery, fabrics and furniture are frequently used in your home and public buildings, making dirt and soil easily detectable. ServiceMaster of Superior-Duluth-Cloquet (SDC) professionals are experts at selecting the most effective and safest upholstery cleaning methods for various fabric types and soil conditions.
For your home and industrial furniture cleaning, ServiceMaster SDC, Duluth MN professional upholstery and fabric cleaning technicians use specially designed products and equipment, including initial vacuuming and spot treatment, cleaning, rinsing, water extraction, and washing and polishing frames. They carefully clean and protect your items to make sure they last their longest.
ServiceMaster SDC, Duluth MN will work with you to make sure you know how to protect your furniture and upholstery so that it stays cleaner longer.  Protecting your furniture from dirt and soil will help the life of your products as well.
Choose Upholstery Cleaning and Restoration Services from ServiceMaster SDC, Duluth MN by calling us at (218) 461-4434, and discover true "Peace of Mind."
---
Reviews:
Review by L.D. – Superior, WI
Water Damage Restoration
Rating

"Had a water loss on Sunday, and you responded right away. I was very appreciative and wanted to make sure I thanked everyone involved. I could not have done myself, and am glad you have on-call people."
---
Review by A.F. – Duluth, MN
Sewage Damage Cleanup
Rating

"Thanks for all your help this winter. We would have had a lot more issues had you guys not jumped up to the plate to help out. If there are any more ServiceMaster employees that would like to come (to their open house), please let them know.
Bring your families if you'd like."
---
Related Upholstery Cleaning Services