AfterCare Restoration
A sewer drain backup or septic overflow can create a toxic mess. These waste materials are dangerous to handle, but the sewage will cause major property damage if not cleanup up immediately. The best course of action is to quickly contact a disaster restoration service that will have the gear and expertise necessary to perform effective sewage extraction and cleaning.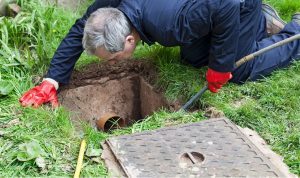 AfterCare Restoration provide sewage cleanup in Trexlertown, PA. We are an IICRC-certified sewage extraction firm and our technicians are available 24/7 to respond to sewage backup and septic cleanup scenarios. Our sewage removal team will quickly arrive to safely contain the sewage and fully extract the waste from the affected areas.
Our sewage cleanup services in Trexlertown, PA include:
24/7 availability and fast response to septic spills and sewage overflows
Total containment of the affected area
Complete sewage water extraction and removal of hazardous waste
Industrial dehumidification and drying of the property
Application of advanced cleaning agents to safely disinfect the affected areas
Contact Us for Sewage Cleanup in Trexlertown, PA
If you experience a sewer drain backup, septic backup or spill, or similar case of overflowing sewage, keep your distance from the toxic elements and contact a professional sewage removal service as soon as possible.
You can call AfterCare Restoration at (215) 795-5939 for professional sewage cleanup in Trexlertown, PA.
---
Recent Reviews
Review by

T.W.
Rating

"Aftercare has been truly amazing. Very professional and personal all at the same time. Brought them in for an estimate and they were able to start our drying process right away. They walked me through what I would need to address with my insurance. we are currently in the process of picking flooring which they will be installing for us both in the areas at that did have the leak as well as a larger area in the home we are very grateful and happy to work with them. I would recommend aftercare to anybody that asks"
---
Review by

S.B.
Rating

"Our basement flooded this past August with the storms. Calling Aftercare was the best decision I made. They were quick to respond, worked within my budget, and did an AMAZING job! There were some things we wanted to upgrade and they were able to help us with that as well. They changed out the flooring in our bathroom and even came back to install a new basement floor. I highly recommend them to anyone looking for reliable quality work!"
---
Review by

P.B.
Rating

"Jeff and his team were incredibly professional and their work was perfect. They worked with our insurance company so that we didn't have to deal with the headache. We will absolutely use them again in the future and recommend them to anyone who needs work done in their house."