Se habla español
Following the restoration service, there is often another effect leftover from the disaster, one that must be addressed: mold. In fact, there are a number of incidences that can produce these horrible smells, including floods, fires, pets, mold, smoke, and even others that can prove to be exceedingly difficult to remove with home remedies.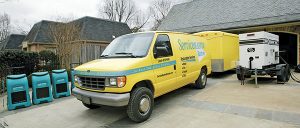 Such strong odors should be removed by a professional. ServiceMaster All Care Restoration provides professional odor removal services in Tempe, AZ, removing both the foul smell and its source to completely restore the property. Our technicians are also licensed and experienced to use advanced odor-removing technology, such as hydroxyl, ozone, absorption, and Nano carbon technology.
Our odor removal services cover foul smells from any of the following sources:
Biohazards
Pets
Mold
Dead and nuisance animals
Mold
Smoke and fire
Our Deodorization Process
Our odor removal service involves a multi-step process in order to remove the odor at its source while preventing it from returning. These include all of the following:
Removal of the odor source
Air scrubbing and other treatment of the other space
Air washing
Sealing surfaces of porous materials
Documentation of services performed
Foul smells within a property can be derived from a variety of sources, but our technicians are trained and experienced to eliminate odors from within. ServiceMaster All Care Restoration can remove the odors derived from the following:
Flooding and Mold: Water damage can also contribute to mold growth, also producing a musty odor within the area. But our advanced equipment can remove these musty odors while our technicians address the water and mold damage.
Fire and Smoke: Even after a professional restoration service, odor particles often remain within porous materials, including drywall, carpeting, wood, and more. Our deodorizers can also reach these areas and remove odors at their source.
Biological odors: Pet messes, accidents, crimes, and other incidents can leave behind a foul odor, even if the source is already removed. Our thermal fogging systems can address these odors, penetrating each odor particle and eliminating it from within.
Odors that are derived from the sources listed above can not only be difficult to remove, but extremely distracting. In fact, it can be difficult to focus on anything but the odor. That's why it's best to call for professional assistance from our technicians. ServiceMaster All Care Restoration will ensure that the odor is removed properly and won't return in the future.
ServiceMaster All Care Restoration is available (480) 717-3030 in Tempe, AZ to provide odor removal services. Local experts.
---
Recent Reviews
Review by

Beth Gaspadarek
Rating

"These guys were very quick about responding to my call. I was away for a couple of days and my bathroom sink sprung a leak. They were very nice and professional."