RestorationMaster
Mold is a troublesome presence in a home or building as it can cause a range of problems including musty odors, property damage, and adverse health effects. The only requirements for mold growth are moisture and a food source. These can include wood or drywall for spores to form into mold, spreading throughout the building until removed by a professional. RestorationMaster provides mold remediation services to remove mold growth from homes and buildings while restoring the damaged surfaces in Tacoma, WA and the surrounding areas . We also provide testing to ensure that all the mold has been discovered and removed.
Dealing with Mold Damage
Sometimes mold may grow in hidden areas that are more difficult to detect, but it can be just as damaging to your home and health. That is why RestorationMaster works with nationally recognized testing facilities which allows us to provide full mold inspections, lab analysis, and written plans for mold removal . We also confine the existing mold growth to the affected area while eliminating the source to prevent it from returning.
Each case of mold remediation may differ, however, you can expect the following steps:
Observation and assessment of the damage
Report of our assessment is given to your insurance company
Determine the scope of the damage and isolate/ contain the damaged area
Decide on the appropriate plan of action and prepare a written remediation plan
Remove the mold and repair or restore the damaged surfaces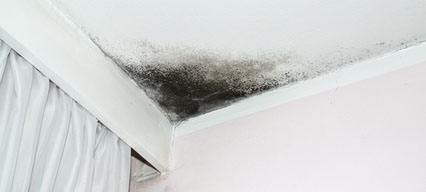 Some homeowners may be tempted to conduct mold removal process themselves; however, it is always a better idea to call a professional service such as RestorationMaster to completely remove all mold growth and test your home for hidden mold. If you do discover mold growth in your home or building, you can use the following actions to limit the damage:
What to Do When Discovering Mold:
Contact RestorationMaster immediately for professional mold remediation services.
Moisture and water leaks should be fixed as soon as possible, dry off wet items.
Air out your home by opening the windows and doors.
Protect yourself with non-porous gloves and eye wear.
Try and keep the moisture and humidity levels low by running an air conditioner or dehumidifier.
Check the ventilation of your home.
Mold Removal – What Not to Do:
Do not try to kill the mold; dead mold spores are just as harmful to your health.
Do not try to clean up the mold with bleach or other household chemicals as it will cause the spores to disperse.
Do no use paint or caulk on moldy surfaces.
Do not disturb areas of extensive mold growth as this could send more spores into the air, contaminating other areas of the home or building.
Mold growth is as unsightly as it is dangerous to your health and property; therefore, it is complicated to get rid of without professional assistance. Do not hesitate to contact RestorationMaster for mold removal and mold remediation services in the Tacoma, WA area. We use advanced cleaning products and equipment to inspect and eliminate mold. We also help coordinate claims with your insurance company.
We are available 24 hours a day, 7 days a week at 888-915-8868 for professional mold remediation services in Tacoma, WA and the surrounding areas.