Water is a necessity in our homes and it is also one of the leading causes of property damage.  Excess water and moisture can be very damaging within a home or building because many building materials such as wood, insulation, and drywall are porous.  These materials will absorb water and moisture which can result in warping, discoloration, and eventually structural damage.  Hesitating to deal with water damage will not only allow it to spread over a larger area, but also increase the risk of mold growth which will cause additional damage and put your health at risk.  You must act immediately at the first sign of water damage to prevent the situation from becoming serious.
At ServiceMaster SDC, we provide complete water damage restoration services to help homes and businesses in Superior, WI recover from flooding and water damage.  We use advanced extraction and drying equipment to remove water from the affected materials and we can restore the damaged areas while preventing mold growth.
Effects of Water Damage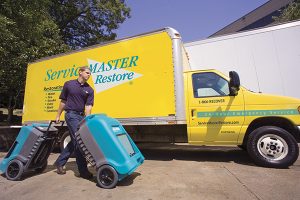 Water can be more dangerous than it seems because of its ability to get absorbed by common building materials.  Porous building materials will experience discoloration and warping when they take on water and they may weaken to an extent that threatens their structural integrity.  The affected materials will also be at a much higher risk for mold growth which will increase the damage.  Reacting quickly to water damage will help you limit its spread and prevent worst case scenarios including structural damage and mold.
Our technicians at ServiceMaster SDC will immediately assess the extent of the water's spread and work to contain the damage.  We have the right extraction and dehumidification equipment to extract standing water and moisture absorbed by affected materials.  We will also ensure that affected areas are cleaned and restored to prevent mold and other issues.
Our technicians treat water damage with these basic steps:
Assessment of the spread and extent of the damage
Water extraction
Anti-microbial applications
Drying: dehumidifying
Drying: air movement
Drying: monitoring
Flood Damage Restoration
Incidents involving standing flood water in your property are much more severe than a leak and can lead to devastating damage.  The high volume of water can cause more serious damage to the affected materials and furnishings much faster and the water may also contain sewage or microorganisms that can be harmful to your health.  Our technicians will immediately extract the standing water from your property with our advanced extraction equipment and ensure that the affected area is dried and sanitized.  We are prepared to remove sewage safely and we will leave the area in a safe condition.
Water Damage Restoration Process
You can expect thorough and effective water damage restoration services from the highly trained technicians of ServiceMaster SDC.  Our complete water damage restoration process includes the following steps:
Initial inspection to determine the extent of the damage
Location and repair of the source of the water
Complete water extraction with advanced equipment
Containment of the moisture to prevent the damage from spreading
Drying and dehumidification to extract moisture from affected furnishings and building materials.
Mold removal if necessary
Repair and restoration of the damaged areas.
As soon as you notice water damage in your home or building, you need to act fast to prevent mold growth, structural damage, and other serious issues that may result.  ServiceMaster SDC is ready to respond to water damage emergencies in Superior, WI to have your home or building dried and restored quickly.  You can reach us 24 hours a day by calling (218) 461-4434 for emergency services.
---
Related Water Damage Restoration Services
Water Damage Restoration in Cloquet, MN
Water Damage Restoration in Duluth, MN
---
Review by L.D. – Superior, WI
Water Damage Restoration
Rating

"Had a water loss on Sunday, and you responded right away. I was very appreciative and wanted to make sure I thanked everyone involved. I could not have done myself, and am glad you have on-call people."
---
Review by G.B. – Saginaw, MN
Sewage Damage Cleanup
Rating

"I had a sewage back up in my home. I am impressed with your response time, what you did, and the communication. My son enjoyed working with you. Thanks for all of your help."