There is always a chance that mold can appear in a home or commercial building because mold spores are a constant presence in the air.  Once the spores find the right conditions, they will quickly develop into mold growth.  Mold tends to form in areas of homes and buildings where there is a presence of moisture and materials that contain cellulose, a main food source for mold.  The presence of mold can result in severe property damage because it feeds on the affected surfaces, as well as negative health effects for those who are exposed.  It is important to regularly check for mold in areas where there is moisture and act immediately if you find mold.
ServiceMaster SDC provides mold remediation services in Superior, WI to remove mold growth and restore the affected areas.  Our technicians know how to locate and effectively remove all mold growth from your property and we will restore or replace damaged surfaces and materials.
Problems with Mold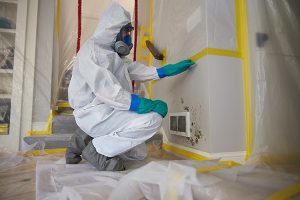 Mold can appear on just about any type of surface or object in a home or building if there is moisture and a food source.  Common building materials such as drywall, wood, and insulation contain cellulose which is why they are prime targets for mold.  Mold colonies will eat away at these materials, resulting in discoloration and surface damage that can lead to structural issues.  If the mold is not contained and removed, it will spread further throughout the property, causing the damage to be more severe and widespread.
The other major issue with mold is the effect it can have on your health.  Exposure to mold spores can cause a number of allergic reactions such as itchy eyes and throat, headaches, nasal congestion, and coughing.  Those who are exposed for a prolonged period can develop more serious issues like asthma and respiratory infections.
Professional Mold Remediation
Our professionals will work quickly to assess and contain the mold so we can develop an effective remediation plan while protecting the rest of your property.  We can accurately test your property to locate all instances of mold growth and we use advanced cleaning and remediation methods to remove it.  It is possible to restore affected materials but if they are too severely damaged, we will have to remove and replace them.  Once the remediation is complete, we will test again to ensure that the mold has been effectively removed.
Mold is dangerous for your property and your health.  It is very important to control the moisture level in your home to prevent mold and regularly check for mold growth so you can act before it causes extensive damage.  Our technicians at ServiceMaster SDC are prepared and equipped to remove any level of mold growth from residential and commercial property.  You can reach us 24 hours a day at (218) 461-4434 for mold remediation in Superior, WI.
---
Related Mold Remediation Services
Mold Remediation in Cloquet, MN
Mold Remediation in Duluth, MN 
---
Review by L.D. – Superior, WI
Water Damage Restoration
Rating

"Had a water loss on Sunday, and you responded right away. I was very appreciative and wanted to make sure I thanked everyone involved. I could not have done myself, and am glad you have on-call people."
---
Review by G.B. – Saginaw, MN
Sewage Damage Cleanup
Rating

"I had a sewage back up in my home. I am impressed with your response time, what you did, and the communication. My son enjoyed working with you. Thanks for all of your help."