Fires among the most serious disasters that can happen in a home or building because they cause a devastating amount of damage and put lives at risk.  It does not take long for fires to rip though a property and even after they are put out, the corrosive byproducts created by the fire such as smoke and soot are still present and can cause damage.  When a fire occurs, you need to first secure everyone's safety and call the fire department, and then follow up by calling a professional for fire damage restoration.
ServiceMaster SDC provides fire damage restoration services to help clean up, rebuild, and restore homes and businesses in Superior, WI that have sustained major fire damage.  Our technicians are ready to stabilize serious structural damage and begin the pre-cleaning process to salvage materials damaged by smoke and soot.  By reacting quickly, we will be able to salvage more of your property and get your home or business back to its previous condition.
Fire Damage And Its Effects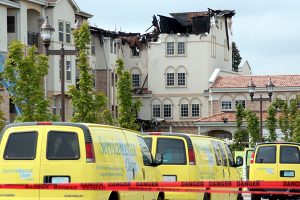 The overall damage caused by a fire is multi-faceted as the fire itself can cause structural damage and charring, the smoke can result in odors and an oily residue, and soot can settle on various objects and materials and cause tarnishing and etching.  All of this damage is at risk of becoming permanent if swift action is not taken after the fire is extinguished.  Our technicians can respond to structural damage and stabilize it immediately to help prevent the damage from getting worse until it can be fully repaired.  We also have advanced chemical cleaning products that can remove smoke and soot residue from household surfaces including marble, brass, aluminum, tile, chrome, porcelain, carpeting, and upholstery.
You can expect the following basic steps with our fire damage restoration services:
Emergency pre-cleaning
Content cleaning
Content pack-out
Wall and ceiling cleaning
Deodorization
Because fires can cause so much damage to different materials, we are prepared to provide the following specialty services to restore the damage:
Mold removal
Smoke odor removal
Carpet drying
Emergency board-ups
Structural drying
Document drying
Debris removal
Drywall replacement
Content cleaning and pack-out
Smoke Damage Restoration
The smoke and soot created by the fire tend to cause the most damage.  Both of these byproducts are highly corrosive and can cause serious damage to the surfaces and materials they affected.  Smoke can produce an oily residue that damages the surfaces it affects, and soot can settle on anything and cause tarnishing and discoloration.  The effects of both byproducts will quickly become permanent unless they are treated with the proper cleaning products.  Our technicians have the right cleaners to salvage most objects and building materials affected by smoke and soot.
If a fire occurs on your property, ensuring the safety of everyone within must be your first priority.  Once the fire has been extinguished, you need to start the restoration process right away to salvage your property.  Our technicians at ServiceMaster SDC can respond 24 hours a day to fire emergencies in Superior, WI to help restore and rebuild homes and commercial buildings that have been damaged.  You can reach us anytime by calling (218) 461-4434.
---
Related Fire Damage Restoration Services
Fire Damage Restoration in Cloquet, MN
Fire Damage Restoration in Duluth, MN
---
Review by L.D. – Superior, WI
Water Damage Restoration
Rating

"Had a water loss on Sunday, and you responded right away. I was very appreciative and wanted to make sure I thanked everyone involved. I could not have done myself, and am glad you have on-call people."
---
Review by G.B. – Saginaw, MN
Sewage Damage Cleanup
Rating

"I had a sewage back up in my home. I am impressed with your response time, what you did, and the communication. My son enjoyed working with you. Thanks for all of your help."