(904) 559-3223
There are various types of storms that hit the St. Johns, FL area and they typically involve some sort of precipitation and wind. Something all storms share is that they can be severe enough to cause serious damage to your home or business. Residents of the St. Johns, FL area should be worried about protecting their property from tropical storms and hurricanes because they can lead to significant property damage. RestorationMaster provides storm damage restoration services for residential and commercial properties in St. Johns, FL to fix homes and other buildings affected by storms. We work to stabilize your property in addition to repairing any damage.
Hurricane/Tropical Storm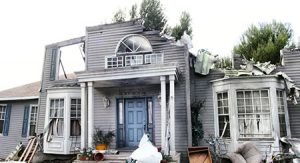 From heavy rain to flooding to hail, there are dangerous weather conditions to encounter in the St. Johns area. However, no storm is more dangerous than a tropical storm or hurricane. Differentiated by its severity and wind strength, a tropical storm and hurricane are similar, as they are both a system of thunderstorms that form over the ocean. Once the storm reaches land, it brings high-speed winds and heavy rain — both of which can cause flooding and damage to properties. Despite not being as strong as a hurricane, even a tropical storm can knock over large objects, ruin siding, and blow off shingles. Knowing this, residents should be aware of how much damage these storms can cause and how they can protect their property from such damage.
Storm Damage Cleanup
In certain cases, storms will be too powerful and cause inevitable damage to your property — despite what you do to prevent such damage from occurring. Property damage can be caused by flooding and strong winds, and your home or building will need immediate stabilization. If not stabilized, then the damage it has suffered only gets worse. By securing your property, our professional technicians work to prevent more damage and start the restoration process. In addition to having proper training, we also have the necessary equipment to restore your roof, siding, and windows. Our process for storm damage restoration includes the following:
Removing natural debris like shrubs and tree branches
Removing non-natural debris like siding, glass, and shingles
Roof tarping and board up services
Complete repair of all property damage
If your home or business has been seriously damaged by a storm in St. Johns, FL, act right away before the property damage gets worse. At RestorationMaster, our experts are trained, equipped, and qualified to tend to storm-damaged homes and other buildings. You can reach us 24/7 by calling (904) 559-3223.