The carpeting is a major aspect of the décor in your home and allowing the carpet to become dirty or worn out can have a drastic effect on your home's appearance.  Your carpet constantly gathers debris like dirt and dust in the fibers, especially in high traffic areas, and this debris can contribute to stains, discoloration, and slow deterioration of the fibers.  Vacuuming your carpet regularly will remove some of the buildup, but the most deeply embedded debris can only be removed by professional cleaning methods.
Professional Carpet Cleaning in South Bend, IN Area
ServiceMaster by Monroe Restoration provides residential carpet cleaning services to deep clean carpeting for homes in South Bend, IN and surrounding areas.  Our technicians can safely clean any carpeting type with our hot water extraction method and we also provide free estimates for this service.
Residential Carpet Cleaning Method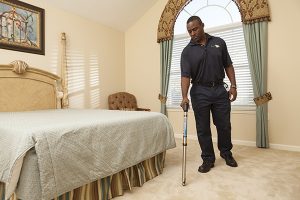 The hot water extraction method is the safest and most effective carpet cleaning method of the industry.  With this method, our technicians use a specialized cleaning wand that deposits the solution of hot water and a mild detergent directly into the carpet and then extracts it back out.  The hot water solution loosens soil deep in the carpet fibers, and the soil is lifted from the carpet when the solution is extracted.  The extracted solution is drained into our truck-mounted holding tank through a hose in the cleaning wand, leaving no residue behind.  We also have specialized cleaning products to remove a variety of stains from your carpet.
The residential carpet cleaning services we provide consist of these steps:
Pre-Treatment: We will loosen the soil in the carpet with our pre-spray treatment and remove stains.
Hot Water Extraction Cleaning: We make sure the entire carpet is treated with the hot water extraction method to remove dirt and debris from the carpet fibers. Your carpet will look better and last longer as a result.
Certified Technicians: Our technicians have the training and experience to effectively deep clean and restore your carpet with our advanced methods.
Long Term Protection: We apply a fabric protector to prevent stains and excessive debris buildup.
Free Estimate: We will give you a free estimate for this service based on our assessment of your carpet.
Guarantee: We guarantee that you will be impressed with our results.
Get a Free Estimate for Carpet Cleaning
Do not let a dirty carpet bring down the look of your home.  Our professional carpet cleaning services will restore your carpet to its original appearance by removing all embedded debris and help prolong the life of your carpet.  Contact ServiceMaster by Monroe Restoration at (574) 231-7179 to schedule a carpet cleaning appointment in your home in South Bend, IN.
---
Recent Reviews
February 13, 2019
Michael Wagner
Three Oaks, MI
---