Soot and smoke are dangerous elements in a home because they can cause serious damage to common household surfaces and objects, and they are a danger to your health.  Homes are usually affected by smoke and soot if there is a fire but a puffback in an oil furnace system can also disperse soot particles, smoke, and residue into the home.  When this happens, the surrounding areas are coated by soot and residue and permanent damage may occur if the materials are not properly restored.  It takes professional cleaning products and methods to effectively restore items damaged by smoke and soot.
At ServiceMaster TEAM, we provide soot puffback cleaning services to fully clean up and restore affected homes in New Hope/ Solebury, PA.  Our technicians can effectively treat building materials, furnishings, and household objects that have been damaged by smoke, soot, and residue using advanced cleaning products and methods.
Damage Caused by Soot Puffbacks
Furnace puffbacks occur in oil furnace systems when an issue with the ignition causes a small explosion.  This explosion pushes soot, smoke, and debris through the air ducts and vents and into your home.  As the smoke and soot come out of the vents, they can damage the surrounding flooring, ceiling, walls, and furnishings.  Soot and smoke are corrosive and can cause significant damage to the affected materials which makes it important to have the damage restored as soon as possible.
Cleaning up damage from smoke, soot, and residue is difficult to do with household cleaning products and if you use ineffective products or improper methods, you can make soot damage worse.  You should call a restoration professional to handle the restoration of materials and objects damaged by smoke and soot.
Furnace Puffback Cleaning
Our technicians at ServiceMaster TEAM are equipped with the proper cleaning products to effectively clean and restore surfaces and objects affected by a furnace puffback.  We will start by evaluating the spread of the damage and the materials affected to come up with an effective restoration plan.  We can salvage building materials, surfaces, furnishings, and a wide range of objects damaged by smoke and soot using professional grade cleaning products.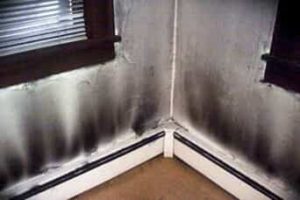 You can expect the following from our puffback cleaning services:
Content restoration
Wall and ceiling cleaning
Deodorization
Debris removal
Furniture and upholstery cleaning
Area rug cleaning
Floor and carpet cleaning
Restoration dry cleaning
HVAC/ air duct cleaning
Air scrubbing services
Demolition services
Call ServiceMaster TEAM
At ServiceMaster TEAM, we use advanced cleaning products and methods to fully restore homes that have been affected by a soot puffback.  Give us a call at (215) 399-4866 if you need furnace puffback cleaning in New Hope/ Solebury, PA.