ServiceMaster Restoration And Cleaning

Serving The Woodlands area since 1992
Fires are devastating disasters not only because they put you and your family in immediate danger, but also because they can interrupt your daily life or business activities.  Whether in a home or office, you must make sure everyone evacuates if a fire occurs and the fire damage restoration must begin as soon as possible because soot and corrosive byproducts can cause further damage that will quickly become permanent.  ServiceMaster Restoration & Cleaning provides fire damage restoration services in The Woodlands, TX to help cleanup and repair homes and business that have sustained fire damage.  We use the right equipment and cleaning products to effectively remove soot damage and we can handle any case of fire damage from homes to large commercial losses.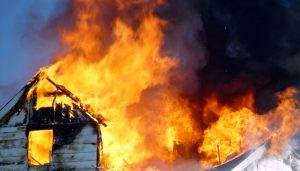 You should never hesitate to get the restoration process started after a fire because fires leave behind soot and chemical emissions that can cause damage in areas the fire did not reach.  Soot and corrosive byproducts cause tarnishing and etching on the affected surfaces and this damage will become permanent if it is not effectively restored within 72 hours of putting out the fire.  Our quick response will help us mitigate the damage and we can effectively remove etching caused by soot and corrosive byproducts from a variety of at-risk surfaces using effective chemical cleaners.
What makes fire damage such a problem is that it is very pervasive and can cause all types of damage that requires specialized services beyond simple fire damage restoration.  We can stabilize homes and buildings that have sustained heavy structural damage with our board up services and we can also clean and restore fire damaged personal content with our content cleaning and pack-out services.  As we pack up your items for our pack-out services, we document every item with our electronic bar coding system, Mobile Service Manager, and we can also safely store your items while your home or building is restored.
The smoke and fire damage restoration services we provide include:
24/7/365 Emergency Response
Emergency Pre-Cleaning
Complete Assessment of the Damage
Smoke and Soot Damage Removal
Ozone and Air Quality Control
Drying of Wet Areas from Putting Out Fire
Fire damage is very serious and any hesitation in beginning the restoration after the fire is out can lead to even further damage.  Do not hesitate to contact ServiceMaster Restoration & Cleaning if your home or business in The Woodlands, TX has sustained damage in a fire.  We are available 24 hours a day at (281) 668-5912 to respond to smoke and fire damage emergencies in The Woodlands, TX 77375 area.
---
Related Services:
Fire and Smoke Damage Restoration – Humble, TX
Fire and Smoke Damage Cleanup – Fall Creek, TX
Smoke & Fire Damage Restoration – Houston TX
Smoke and Soot Damage Removal – Houston, TX
Fire Restoration Services – Kingwood, TX
Smoke Damage and Odor Removal – Kingwood, TX
---
Reviews:
Review by M. M.
Fire damage restoration
Rating
"The crew and customer service level was phenomenal! Beyond expectation! The care and concern they showed was excellent. Very professional and courteous. Highly recommend! More than impressed!!!"
---
Review by N. R
Fire Damage Restoration
Rating
"Dear Brad,
Please thank Daisy Mae Sheker and her team for all their help. Daisy Mae ensured the packing, moving, storage, and reporting was handled without error, with care, and to the very last detail. She and her team treated me with respect and compassion during this time of crisis. Daisy Mae remained communicative and responsive. Her memory is impeccable and her timing is punctual. Her breadth of knowledge proved to be invaluable. She and her team were an amazing help. I could not have survived the aftermath of the fire without them.
Kind regards,
N. R."