When it comes to property damage, excess water and moisture are some of the most common culprits. It does not matter if the water comes from a severe storm, burst pipe, leak, sewage backup, or overflow, as the results can all lead to extensive damage. If you notice water or moisture on your property in places that it should not be, it is important that you contact ServiceMaster of the Shore Area promptly. Waiting can allow the water to spread, cause more damage, and even permanently damage valuable items. We provide water damage restoration services to fix the cause of the issue, and return your property and belongings to their original condition. We are proud to work with both homeowners and business owners in Wildwood, NJ.
Results of Excess Water and Moisture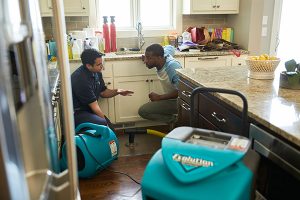 The reason you must seek professional assistance quickly once excess water damage has been spotted is because of the extensive damage that it can cause to your property. Porous building elements (such as sheetrock, woodwork, carpeting, and others) can be penetrated by this moisture, which leads to decreased structural integrity, discoloration, corrosion, and more. The same can be said for valuable furnishings and personal belongings. In some cases, it may be tempting to wait and see if the situation will worsen, but by this point, there is already a much larger issue going on behind the scenes.
Another common problem that can arise when excess moisture is present is the growth of mold. Mold growth occurs when moisture and an organic food source are present. Considering many buildings are constructed with materials that naturally contain cellulose, a food source for mold, it is easy to see how this may happen. Once it takes hold, mold can cause widespread damage to both your property and the health of those exposed to it.
Returning Your Property to Normal
ServiceMaster of the Shore Area is dedicated to helping property owners in Wildwood, NJ, recover from the effects of water damage. We have years of experience removing excess water and moisture, restoring structural elements and belongings, and sanitizing affected areas.  Our highly trained and certified technicians use proven methodologies that result in your property being returned to its original condition.
Our water damage restoration services can be broken down into the following phases:
Phase 1 – Emergency Response: We are available to respond to emergencies 24 hours a day, 7 days a week. When we arrive, we will assess the damage, develop a plan, and begin our water removal and drying procedures. We will also remove damaged belongings for repair.
Phase 2 – Reinstallation and Cleaning: Once the effects of water damage, and potentially mold, have been taken care of, we will completely sanitize your property. We will then reinstall any furniture or items that were previously removed.
Phase 3 – Structural Repairs: To prevent an incident down the road, we will provide reconstruction services if any structural damage has been sustained.
For more information on our water damage restoration services, simply contact our representatives at (732) 722-5858. ServiceMaster of the Shore Area is available 24 hours a day to respond to emergencies, and we work with homeowners and business owners in the Wildwood, NJ, area.
---
Related Water Damage Restoration Services
Water Damage Restoration in Manasquan and Brick, NJ
Water Damage Restoration in Ocean City and Egg Harbor Township, NJ
Water Damage Restoration in Middletown, NJ
Water Damage Restoration in Toms River, NJ