In areas exposed to rough conditions, tile and grout are a popular choice. However, even these tough materials can become damaged over time, which is why we offer complete tile and grout cleaning services here at ServiceMaster of the Shore Area. Grout lines and finishes tend to wear out as they welcome dirt, debris, stains, and more. Our technicians will address these issues and return your tile and grout to its original condition. We offer this service to property owners in and around Wildwood, NJ.
Weaknesses of Tile and Grout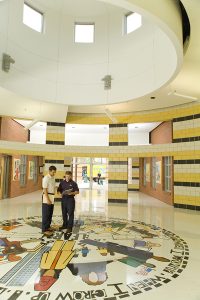 Despite often being selected for use in certain areas because of its durability, even tile and grout lines become damaged. As moisture, debris, and other harsh elements wear on the tile's finish, it will fade. This can lead to discoloration and staining if left untreated. Additionally, grout lines can become damaged as dirt and debris work their way between tiles. This can lead to cracking, loose tiles, and even the growth of mold and mildew in certain conditions.
If you do experience the latter (the growth of mold, particularly), it is critical that you get it removed before it can spread to other areas of your property. Mold can cause discoloration, deterioration, and permanent damage in structural elements, furnishings, and personal belongings if left unchecked. It can also cause a variety of health complications in individuals that are regularly exposed to it.
To prevent these complications, we recommend that you take advantage of our comprehensive tile and grout cleaning services.
Comprehensive Tile and Grout Cleaning Services
ServiceMaster of the Shore Area is a trusted name in the disaster restoration and cleaning industry because of our extensive work helping property owners recover from damaging events. While often on a lesser scale, tile and grout damage can lead to significant problems if left unaddressed. Through our tile and grout cleaning services, we will restore your tile and grout lines to their original condition. Our technicians are highly trained, and we utilize time-tested restoration methodologies and sanitization solutions. To get a better idea of what specifically to expect from our services, please see below:
An initial inspection to analyze the extent of the damage
The development and implementation of a restoration plan based off of our findings
Pre-treatment of spots and stains utilizing eco-friendly cleaning products
Primary cleaning of tile and grout lines through the use of professional-grade sanitization equipment, solutions, and methodologies
Sanitization of corners and baseboards for a truly thorough cleaning
Drying of tile surfaces and re-sealing of grout in order to increase durability
A final inspection to ensure a quality result
While sweeping and mopping your tile and grout is a great way to remain proactive, nothing can beat a professional cleaning. If you would like to make use of our tile and grout cleaning services here at ServiceMaster of the Shore Area, simply contact our representatives at (732) 722-5858. We work with property owners in Wildwood, NJ, and are happy to answer any questions you may have.