When carpeting and upholstery is maintained well, it can leave a positive impression on guests in residential and commercial settings; however, the opposite is also true. Additionally, while vacuuming with a standard cleaner is recommended for general upkeep, it is important to get your carpets and upholstery professionally cleaned from time to time to remove deeply embedded dirt and debris. We provide this and more through our carpet and upholstery cleaning services here at ServiceMaster of the Shore Area. We are proud to assist homeowners and business owners in the Wildwood, NJ, community.
General Wear and Tear Over Time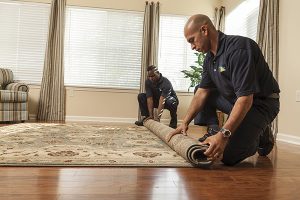 Whether it is reasonable or not, visitors (whether they are family friends, clients, or potential business partners) will be left with a strong impression based on the upkeep of your building. This starts with your carpeting and upholstery. Residential-style vacuums and detergents will do an admirable job in maintaining these materials, but dirt, dust, and debris will always find a way to become embedded within the fibers of fabrics beyond the reach of these tools. Over time, this can lead to discoloration and deterioration depending on the levels of foot traffic and use your carpeting and upholstery are exposed to. This is because the embedded debris acts like sandpaper and causes the wear and tear that many property owners are familiar with.
Professional Carpet and Upholstery Cleaning
At ServiceMaster of the Shore Area, we utilize professional-grade cleaning methodologies, equipment, and solutions to treat stains and remove embedded objects from the fibers of your fabrics. The specific way we remove these objects is through our hot water extraction cleaning method. This process makes use of a mild detergent and hot water that get injected deep into the fibers of your fabrics. Once there, embedded debris is dislodged, and then it is all sucked up together.
While hot water extraction is a tremendous tool, it is only one element of our services. When you choose to work with us, you can expect the following:
An initial inspection of the condition of your carpeting and upholstery
The development and implementation of a cleaning strategy based on our inspection
Pre-treatment of spots and stains
Our hot water extraction cleaning method
Deodorization services where applicable
Repair of damaged areas
An optional Scotch Guard Protection treatment
A final inspection to ensure a quality result
Generally speaking, it is recommended to get your carpeting and upholstery professionally cleaned at least once every 1 to 2 years in residential settings (this can change based off of your unique situation). For businesses, we can provide a one-time cleaning, or you can schedule us for more frequent cleanings.
If you are interested in learning more about our carpet and upholstery cleaning services, feel free to contact our ServiceMaster of the Shore Area representatives at (732) 722-5858. We are happy to answer any questions you may have, and are proud to work with property owners in and around Wildwood, NJ.
---
Related Carpet and Upholstery Cleaning Services
Carpet and Upholstery Cleaning in Manasquan and Brick, NJ
Carpet and Upholstery Cleaning in Ocean City and Egg Harbor Township, NJ