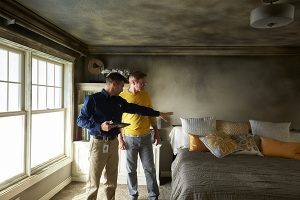 Smoke, soot, and other debris all have the potential to result in significant  damage to the walls, other surfaces, and your belongings. They are also hazardous to the health of those exposed. In Westerly, RI and the surrounding areas, a common occurrence that can result in smoke and soot in your home is a furnace puffback. When this happens on your property, it is important to address the released contaminants as quickly as possible to avoid permanent damage and health issues.
At ServiceMaster by Mason, we can assist you in these efforts through our soot puffback cleaning services. Our technicians act quickly and effectively to reduce the risk of permanent damage and return affected areas and items back to normal. We will also provide comprehensive odor-removal services.
Furnace Puffbacks
When a puffback occurs, soot is expelled from the furnace when there is a problem with your oil furnace or burner. When the burner backfires, soot and other debris is spread through the exhaust system and into your home. The end results will include corrosive damage to walls, carpeting, woodwork, furniture, flooring, upholstery, and personal items, not to mention the risk of them becoming unsalvageable.
The longer this soot is left to sit, the more likely it is that permanent damage and a strong oil-based odor will take place. If you experience a furnace puffback on your property, ServiceMaster by Mason encourages you to contact us right away.
A Calculated Approach to Cleaning
Because using over-the-counter products will only spread and smear the oily soot substance, it is crucial to call ServiceMaster by Mason to use the latest products and equipment to fully clean your property. They are each trained and IICRC-certified to understand and implement the proper cleaning techniques to your unique situation.
From the minute you call, you can expect a rapid response and a developed custom action plan. We will then eliminate the hazardous materials from your property, restoring the affected areas and personal items using professional-grade tools.
After eliminating the hazardous substances, our technicians will work diligently to restore the affected areas and items, followed by deodorizing the property. As there are small details involved in any restoration project, furnace puffbacks are no exception. ServiceMaster by Mason fully recognizes this, which is why we go the extra mile to ensure that your property is fully restored.
You can expect the following when you take advantage of our puffback cleaning services:
Wall and ceiling cleaning
Carpet and floor cleaning
Deodorization services
Content cleaning and restoration
Air scrubbing services
Removal of debris
Furniture and upholstery cleaning
Area rug cleaning
HVAC/air duct cleaning
Restoration dry cleaning
Demolition services
Regardless of the amount of damage, our technicians have the equipment and experience to provide the solution for your unique situation. Responding to disasters such as floods, fires, sewage backups, storms, and other property-damaging situations is our specialty, and we ensure to get the job done efficiently and effectively.
Immediate Response
You can reach our ServiceMaster by Mason representatives 24/7 at (401) 622-4156 for puffback cleaning services. As we mentioned above, our overall goal is to return your property to its original condition. No matter the scale or recency of the event, our technicians will utilize their expertise to arrive at an ideal outcome. We currently offer these services to property owners in and around Westerly, RI.