RestorationMaster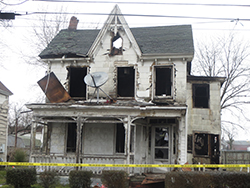 When it comes to natural disasters, mother nature should never be underestimated. As they have power to wipe out commercial buildings, nothing will stand in their way when causing severe destruction. If your home or building has been left in a devastating condition afterwards, don't hesitate to take immediate action.
RestorationMaster is available 24/7 in the Vancouver, WA area to provide emergency board up and tarping services to stabilize homes and buildings. With our services, we will prevent additional damage and even collapse by covering all openings and providing additional support to the building materials.
Professional and Efficient Board Up Services
When a property has sustained significant damage from a natural disaster, such as a fire, flood, or earthquake, they can often be left in an unstable condition. When this occurs, they can even face additional damage, such as another flood from rain, smoke and soot particles, and even nuisance animals leaving behind odors and biohazards. This is not to mention the threat of collapse from the structure's inability to support its own weight.
As soon as RestorationMaster is called for emergency board up and tarping services, our technicians will arrive within 2 hours of your first call with all necessary materials secure the structure. We will then work efficiently and effectively in order to prevent additional damage until the restoration and reconstruction service arrives to return it to its original condition.
Our technicians will provide all of the following with emergency board up and tarping services:
Temporary fencing and barricades
Stabilization of the interior structure
Covering of all holes and openings
Tarping over the roof
Installing temporary enclosures
Working with insurance
Because time is of the essence when starting the repairs process, the professionals at RestorationMaster will work efficiently and effectively to provide temporary stabilization to your property. We are also able to provide the restoration and reconstruction services as we are a licensed and experienced disaster restoration provider. Altogether, we will ensure a seamless process by avoid coordinating with multiple companies during the repair process. Finally, we will work with your insurance company during the claims process to provide additional peace of mind.
Don't hesitate to call RestorationMaster at (360)450-3505 for emergency board up and tarping services if you live in the Vancouver, WA area. We are available 24/7 and will work with insurance.