Fire is the worst nightmare of a homeowner. It not only causes damage to your personal belongings, but it also can threaten you and your family's safety. As soon as you are certain your family is safe and the fire has been put out, you must try to restore your home immediately. Start by calling
RestorationMaster
. We will take steps to ensure that you and your family have a safe living space to return to. We will remove all damage, restore your home, and repair any structural damage to your home in Summerville or Goose Creek, SC. We aim to make this process as quick and as painless as possible.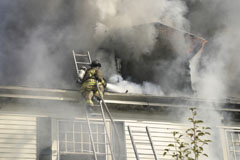 Even small fires can cause massive amounts of damage. At times, after the fire has been put out, the damage can still spread to other rooms. Corrosive byproducts can cause permanent damage to affected items. Our technicians can salvage your personal belongings, but only if you contact us immediately. Our cleaners can clean all different types of services including tile, brass, aluminum, and much more! We cannot stress how important the immediate restoration is, without immediate assistance reconstruction may be necessary.
We use the most advanced equipment and cleaning products to fully restore and rebuild your home after a fire.  Our fire damage restoration process consists of the following steps:
Emergency pre-cleaning
Content cleaning
Content pack-out
Wall and ceiling cleaning
Odor removal
When you and your family have gone through a fire, the last thing you want to worry about is restoring the damage. Hire a professional to do it for you. If you live in or near the Summerville or Goose Creek, SC area and have gone through a fire, contact RestorationMaster immediately. We are available 24 hours a day, 365 days a year at (888) 915-8868 to restore your home!