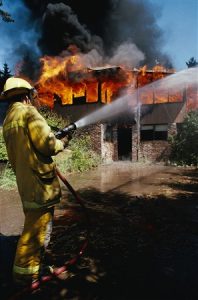 A fire in a home or business is not only a terrifying ordeal, but also very destructive as it causes complex levels of damage that can get worse after the fire is out.  However, when a fire breaks out, dealing with the damage will be the furthest thing from your mind.  You must immediately evacuate the home or building and ensure that everyone is safe and that the fire is completely out.  Once the fire department leaves your property, it is imperative to turn attention to the restoration process, or the damage will get much worse.
Fires leave behind smoke, soot, and corrosive byproducts that are created when synthetic materials are burned.  Each of these materials will keep spreading after the fire is out and cause additional damage to the affected materials.  This secondary damage is often more extensive than the damage caused by the fire.  ServiceMaster Quality Restoration provides fire and smoke damage restoration services in Stallings, NC to effectively restore damage caused by fire, smoke, and corrosive byproducts.  Our experienced and IICRC-certified technicians are prepared to handle any level of fire damage in homes and commercial buildings.
Fire Safety – Check Out Our Video
Damage from Fire and Smoke
The initial damage from a fire is caused by the flames themselves as they generally char or destroy objects and building materials in their path.  As the materials burn, smoke, soot, and corrosive byproducts are released that will continue to linger after the flames are gone.  The smoke from a fire often spreads throughout the home or building and is absorbed in porous materials, causing the odor to linger.  The soot and corrosive byproducts will also continue to spread and settle after the fire, causing etching and discoloration to the affected objects and materials.  Many of the materials damaged by soot and corrosive byproducts will become permanently damaged if they are not treated fast enough after the fire.
At ServiceMaster Quality Restoration in Stallings, NC, we have the experience and advanced equipment to repair severe damage and restore objects and materials affected by soot and corrosive byproducts.  Our advanced chemical cleaning products can effectively remove tarnishing and etching from chrome, aluminum, porcelain, ceramic, stainless steel, and other common materials.
The fire and smoke damage restoration services we provide include the following:
Emergency pre-cleaning
Wall and ceiling cleaning
Contents restoration and pack-outs
Odor removal
Smoke Mitigation and Deodorization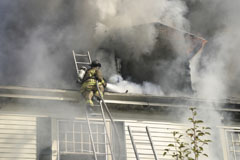 Lingering smoke from a fire can produce an unpleasant odor in your home or building that can be difficult to remove with home remedies.  The smoke will spread to the furthest reaches of the home or building after the fire and as it gets absorbed, the odors are trapped in the materials.  Our technicians in Stallings, NC can extract the smoke odors from the affected materials and air spaces with our specialized odor removal process.  The smoke mitigation process will add time to the overall restoration, but is worth returning the property to an odor-free home.
Once the initial chaos from the fire is under control and the fire is out, you must call a professional for fire damage restoration to prevent permanent damage.
Our technicians at ServiceMaster Quality Restoration are ready 24 hours a day at provide fire and smoke damage restoration in the Stallings, NC area.  Give us a call any time at (704) 603-6223 to respond to your fire damage emergencies.
---
Related Fire and Smoke Damage Restoration Services
Fire Damage Repair in Charlotte, NC