Natural disasters such as floods, fires, and extreme weather are known to cause significant structural damage to homes but these disasters can be even more frustrating when the damage extends to your personal items.  Your personal belongings can become burned or water damaged and if they are not cleaned or restored right away, your belongings can become permanently damaged.  ServiceMaster of San Francisco provides content cleaning and pack-out services in San Francisco, CA and the surrounding area to clean and restore damaged personal items.  We provide on-site content cleaning as well as pack-out services to restore your items off-site at our secured facility.
Content Cleaning Services
When any type of disaster occurs, it is important to respond to the damage to prevent it from spreading or becoming permanent, and waiting to start the restoration of your personal belongings can result in permanent damage.  Our technicians at ServiceMaster of San Francisco use advanced cleaning equipment and products to clean, restore, and deodorize all types of personal content and we can also help coordinate the damage claims with your insurance company.  If your home or building is in good or stable condition, we can clean and restore your content on-site.  Otherwise we will have to do a pack-out to bring your items to our facility.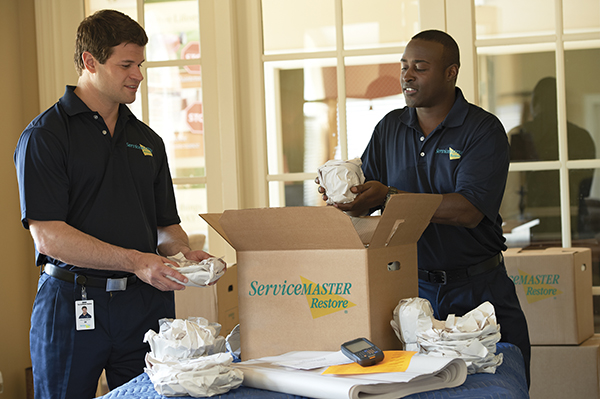 Pack-Out Services
Most major disasters effect the structural elements and furnishings of a home as well as your personal items and if your home is in an unstable condition, it is best to remove your items for cleaning.  We provide pack-out services in which we will carefully pack up all affected items and transport them to our facility where we can thoroughly clean and restore them.  Our technicians take a detailed inventory of every item that is packed and we provide a copy of this inventory to you.  Once your items are restored, we can safely store them in our facility and our technicians will deliver them to you once you are ready to have them back.
In the aftermath of a disaster, inspect your home and belongings to see what is damaged and if your personal items are affected, make sure that content cleaning and pack-out services are part of the restoration.  ServiceMaster of San Francisco provides content cleaning and restoration services in the San Francisco area to clean and restore your most important personal items.  You can reach us 24 hours a day at (415) 805-9699 for more information about our content cleaning and pack-out services.
---
Related Content Cleaning and Pack-Out Services
Content Cleaning and Pack-Out Services in San Mateo, CA
Content Cleaning and Pack-Out Services in San Jose, CA
Content Cleaning and Pack-Out Services in Palo Alto, CA
Content Cleaning and Pack-Out Services in Los Altos, CA
Content Cleaning and Pack-Out Services in Fremont, CA