The smoke, soot, and other corrosive debris released during furnace puffbacks can be particularly damaging to buildings, belongings, and the health of those exposed. To help you through the recovery process, we offer complete soot puffback cleaning services for all property owners in Providence, RI and the surrounding areas.
Our ServiceMaster by Mason technicians are trained and certified to address these events and we will restore affected areas and items as we eliminate hazardous debris. We can be reached 24 hours a day, 7 days a week, and are proud to work with both home and business owners.
More on Furnace Puffbacks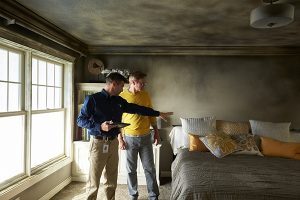 For those who do not know, furnace puffbacks occur when there are problems with your oil furnace or burner. They can occur instantly, when the oil furnace backfires and sends corrosive soot and other debris throughout the property through the air ducts.
ServiceMaster by Mason regularly see floors, walls, ceilings, furniture, basements, and other belongings affected by furnace puffbacks. But these surfaces can't be cleaned using home remedies as it will only end in smearing and spreading the oily residue. To mitigate the damage, and fully restore your property, we encourage you to take advantage of our services.
Trained and Certified Technicians
At ServiceMaster by Mason, we offer the services of our highly trained and qualified technicians. They are all IICRC-certified and have a wealth of knowledge when it comes to restoration work. As a company, we have the resources and expertise to respond to fires, floods, severe storms, mold growth, major accidents, and more.
We apply this experience to return your property and belongings to their original condition. No matter the scale of the damage, our specialists will swiftly and effectively restore your property and peace of mind.
Comprehensive Soot Puffback Cleaning Services
The primary benefit that you will receive from us is greater peace of mind. We ensure this by offering assistance from start to finish. From initial inspections and the development of a site-specific action plan to soot-removal procedures, we will be with you every step of the way. Our ability to salvage and restore sensitive surfaces, materials, and belongings is what truly sets us apart.
To learn more about what to expect from our puffback cleanup services, please continue reading below:
Air scrubbing services
Content cleaning and restoration services
Wall and ceiling cleaning
Floor and carpet cleaning
Complete deodorization services
The removal of debris
Furniture and upholstery cleaning
Air duct/HVAC cleaning
Area rug cleaning
Restoration dry cleaning
Demolition services
We cannot stress enough the importance of a timely response when recovering from furnace puffbacks. If you experience this event on your property, please take advantage of our 24/7 availability. It will allow us to begin the restoration process sooner, limit the extent of the damage, and return your property to normal in a time-effective manner.
Emergency Response
To take advantage of our soot puffback cleaning services, simply contact our ServiceMaster by Mason representatives at (401) 622-4156. We operate in the Providence, RI, area, and look forward to assisting you soon.