RestorationMaster
RestorationMaster would first like to thank you for choosing us for your fire damage cleanup provider. We fully understand that dealing with severe structural damage can not only be shocking to discover, but overwhelming to handle. However, we are committed to working with you until the end, and you are back on track. With ongoing disaster restoration training and experience, we have been a highly reputable company for over 60 years.
While this may be your first experience dealing with a natural disaster, our technicians have restored numerous homes just within the past few weeks. With years of experience and expertise, we have been privileged to develop advanced methods, cleaning products, and equipment in order to effectively restore homes and commercial buildings in a timely manner.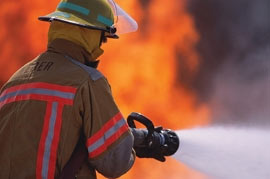 While we understand that you want to remain as cost-efficient as possible, we highly recommend that you do not begin any DIY cleaning procedures until they are cleared by one of our technicians. Please understand that any improper cleaning products or techniques can worsen the damage. One example is having direct contact with surfaces covered by soot; the oil from human hands cause permanent damage when combined with the soot. Keep in mind that our products, methods, and equipment are specifically designed to create the proper chemical reaction in order to effectively restore the damage. Therefore, with our procedures, RestorationMaster is not only able to safely restore your property to its original condition, but get you back on track again.
We have also compiled a list of steps you can take in order to prevent fire damage in the future. Not only are these tips easy to follow, but they can save you both time, money, and a headache in the long run.
What Happens During Fire Damage
While everyone knows that smoke is produced as a result of the flames, not many realize that smoke can penetrate through surfaces where fire is not able to reach. This includes walls, floors, in the cracks of windows, etc. It can also combine with moisture in the air, forming a corrosive residue that can cause additional damage. Even after the fire has been extinguished, the lingering smoke in the air will continue to cause damage to the affected items and surfaces.
While fire does burn, smoke can too. When this occurs, it is known as pitting, chemical burning, or most commonly known as etching; permanent damage will occur if the restoration work does not start right away. This is why RestorationMaster is available 24/7 to prevent this from happening. But keep in mind that the more time that is elapsed between incurring the damage and treatment, the greater the chance for permanent damage to occur.
As we are a highly reputable, licensed fire damage cleanup provider, it is our goal to not only restore your property, but to help you through this time of distress. In addition to our years of experience, our specialists undergo frequent training in advanced fire mitigation, corrosion control, and restoration systems. The technicians also attend continuing education meetings in order to remain updated on the latest restoration products, equipment, and techniques.
While it is our goal to restore your property in the most efficient manner possible, please keep in mind that a larger fire loss will require several phases of restoration before completion. Please refer to our checklist of fire restoration services to get an understanding of what may be required for returning your property to its original condition.
Have questions about our fire damage restoration services? Feel free to refer to our fire damage repair FAQ page for more information. Please keep in mind that all cases of fire damage are unique and this guide covers our general procedures.