RestorationMaster
How long does the restoration process take?
As there are many factors that take part in the fire and smoke restoration process, it is difficult to determine exactly how long it will take. As each fire damage case is unique, RestorationMaster recommends consulting with your technician in terms of identifying the scope of the damage as well as the restoration dates and steps of the process.
Can I clean or restore the damage myself?
We highly recommend that you do not perform the restoration work yourself without consulting your technician. Any improper cleaning methods may result in further damage and costs as it can cause the soot to penetrate deeper within the affected surfaces. As we use specific cleaning agents to create complex chemical reactions for specific materials, our technicians are knowledgeable in effectively restoring damage from all affected surfaces. However, you can refer to our guide on how to prevent future fire damage and save yourself from dealing with a large loss down the road.
Are there any safety hazards I should know about?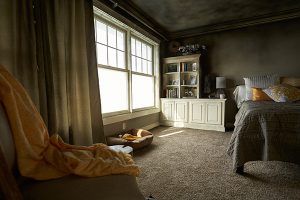 RestorationMaster regards the safety of its clients and workers as its top priority. During the initial inspection, all safety hazards will be examined and documented. This includes: air quality, removal of debris, electrical hazards, slip and trip hazards, etc. Electrical cords and appliances that are burnt will be removed from the home and disposed of separately. Questionable items will be unplugged and tagged for further evaluation. The power may also be turned off until inspected by a certified electrician.
Can I turn on my air conditioning or heating unit?
We highly recommend that your furnace and/or air conditioning unit remain off until inspected by a certified HVAC contractor.
Which items should I keep with me?
Medications
Cash
Personal Documents
Pets
Checkbooks
Gasoline Cans
Flammables
Valuable Paintings
Valuable Jewelry
Weapons/Ammunition
How do I keep track of the items that need to be replaced?
RestorationMaster recommends that a list is made of all non-restorable items. You can make a chart with four columns including the quantity, item, year purchased, and cost.
Do I have to move out of my home during this process?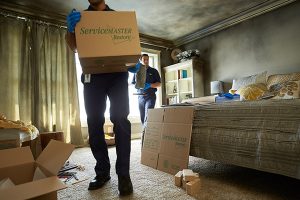 The answer to this question is ultimately your decision. Although you may want to consider several factors before deciding. This includes: safety concerns, odors, electricity, noise from the equipment, etc. If you do decide that you want to temporarily move out of your property, be sure to consider the following: forwarding mail to your temporary residence, suspending utility services, newspaper, cable services, etc.
Do I have to hire other contractors?
This will ultimately depend on each particular item and the scope of the damage. Some items will require secondary contactors, such as: electrical; plumbing; flooring/carpet; installation of doors; post construction cleanup; drywall/painting; roofing; framing/finish carpentry, etc.
Do my belongings need to be removed from the property during the cleaning process?
This will depend on the nature, source, and scope of the fire damage. It may be the best idea to transport the damaged belongings to our secure facility where they will be safely restored and delivered back to your home after the restoration process is complete. RestorationMaster will work with you and your insurance provider in determining if this is the best option for you.
Am I able to access my items while they are in storage?
Absolutely. We just require that you provide us with advance notice and you can schedule a time to meet with a technician in order to access your content. But please keep in mind that a service fee may apply.
If I have antiques, china, and high-value items, what will happen to them?
The restoration of these items will require a specialist to have them properly restored. We will help you and your insurance provider find a qualified professional.
Who is responsible for the payment of the service?
Ultimately, you, as the property owner, are responsible for the payment of the fire and smoke restoration services. Upon arrival, RestorationMaster will provide you with a form that will authorize your payment for the services. If an insurance claim was filed, we will only collect the co-payment at the time of service and bill the remaining balance to your insurance company. If you are dealing with a large loss, it is required that your mortgage company as well as their signature be listed on the payment form. If a claim was not filed, the payment will be expected to be made in full.
You can also refer to our checklist of fire restoration services to gain a better understanding of our procedures.