Se habla español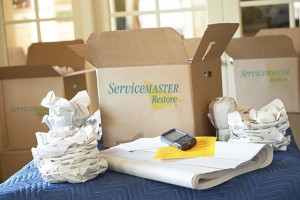 Home disasters such as fires and floods cause destruction beyond just the structural elements of your home, these disasters can also affect your personal belongings.  ServiceMaster All Care Restoration provides pack-out and content cleaning services in Phoenix, AZ to help clean and restore your personal items after a disaster.  We will transport your contents to our secured facility where they can be cleaned more effectively.
Fire, water, smoke, and mold damage can continue to spread and even cause permanent damage if it is not addressed right away.  Call ServiceMaster All Care Restoration immediately so that our trained technicians can salvage your items before they are permanently damaged.  If your home is unsafe following a disaster or if your contents would be better cleaned off-site, our technicians will carefully pack them for transport to our facility.
Pack-Out Services
As we pack up your personal items, we carefully take a detailed inventory of every item and provide you with a full list.  We then take your items to our facility where we can effectively clean and restore them.  After they are cleaned, we can store them safely in our secured facility and we will deliver them back to your home when you are ready to receive them.
If your home has sustained significant damage in a disaster that has affected your personal belongings, call ServiceMaster All Care Restoration for content cleaning and pack-out services in Phoenix, AZ.  Our technicians will carefully inventory and pack up your personal items before taking them to our facility for cleaning and restoration.  We can be reached 24 hours a day at 480-717-3030.