Se Habla Español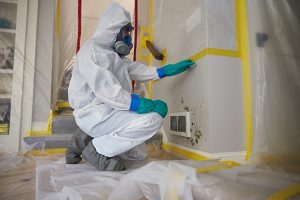 Mold can grow just about anywhere with the right conditions and if it is not removed, it can spread and cause property damage throughout a home or building and even contribute to increased health risks.  It is wise to have mold removed right away and ServiceMaster All Care Restoration specializes in mold removal services for homes and businesses in Peoria and Glendale, AZ.  We will remove all mold growth from your property and repair the damaged areas.
Mold Removal and Repair
Mold only needs the right temperature and a moisture source to thrive so the best method of mold control is to keep the humidity in your home down and take immediate action if you discover water damage.  If there is mold growing in your home, you must act quickly because the mold growth will spread and increase the risk of exposure which can cause allergies and respiratory infections.  The technicians of ServiceMaster All Care Restoration have the training and certification necessary to provide effective mold removal services in residential and commercial settings.
Our complete mold removal services include:
Removal of all mold
Cleaning and sanitization of damaged surfaces
Identification and repair of moisture source
Containment of the mold to the affected area
As soon as you find mold growing in your home or office, make sure to contact ServiceMaster All Care Restoration for mold removal services in Peoria and Glendale, AZ.  Taking immediate action is the best way to limit the spread of the mold and minimize the potential health hazards.  Call us anytime 24 hours a day at 480-717-3030.