The carpet can have a major effect in the appearance of an office much like in a home and if the carpet is cleaned and maintained on a regular basis, it will greatly improve the look of the office. Keeping a carpet clean in a commercial space can be a challenge because consistent foot traffic causes dirt and debris to get embedded in the fibers which can lead to deterioration and diminish the look of the carpet. ServiceMaster Disaster Restoration and Recovery provides commercial carpet cleaning services to clean and restore carpeting in offices and other commercial spaces in Palo Alto, CA. We use advanced cleaning equipment that can restore the original look of your carpet which will improve the overall appearance of your office.
Carpet Cleaning for Businesses in Palo Alto, CA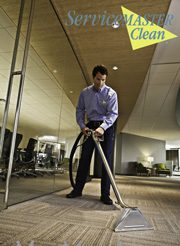 Dirty or worn out carpet in an office can negatively affect the impression that employees, visitors, and clients get of your company. Failure to maintain the carpeting can also contribute to indoor air pollution as debris stuck in the carpet can disperse into the breathing air and cause health issues such as allergies and infection among your employees. The technicians at ServiceMaster Disaster Restoration and Recovery use the most advanced cleaning equipment in the industry to remove embedded debris and revitalize the original look of the carpet. We treat spots and stains with specialized cleaners and then use truck mounted equipment to clean and sanitize all types of commercial carpeting through hot water extraction.
Our commercial carpet cleaning services are an effective way to clean and maintain the carpeting in your office or workspace and we offer regularly scheduled cleanings, as well as one-time cleanings, to provide consistent maintenance for Palo Alto businesses. If many people work in your office daily, signing up for regularly scheduled carpet cleanings is the most effective way to maintain the carpet.
ServiceMaster Disaster Restoration and Recovery provides professional carpet cleaning services to Palo Alto, CA businesses. You can call us 24 hours a day at (408) 457-0633 to schedule a one-time carpet cleaning or sign up for regularly scheduled cleanings.
---
Related Commercial Carpet Cleaning Services
Commercial Carpet Cleaning in Los Altos, CA
Commercial Carpet Cleaning in Fremont, CA
Commercial Carpet Cleaning in San Jose, CA
Commercial Carpet Cleaning in San Mateo, CA
Commercial Carpet Cleaning in San Francisco, CA