Hoarding personal belongings is a dangerous, yet sensitive, issue that must never be taken lightly. It not only puts the hoarder's safety at risk, but it endangers friends and family, as well. Extensive clutter caused by compulsive hoarding can lead to serious health concerns, fire hazards, and much more. This is why we offer full hoarding cleaning services here at
ServiceMaster of the Shore Area
to those in the Ocean City, NJ, and Egg Harbor Township, NJ, areas.
Individuals who are susceptible to hoarding often experience extreme stress and anxiety when it comes to throwing out unneeded items. It may start off small, but it almost always snowballs to a dangerous level. This is why you must address the problem quickly if you are the person that finds it difficult to toss out unnecessary items, or if you know somebody that does. If you are the family member or friend of the individual with hoarding tendencies, then it is important to approach the topic gently. This is what we do here at ServiceMaster of the Shore Area, and it yields longer lasting results.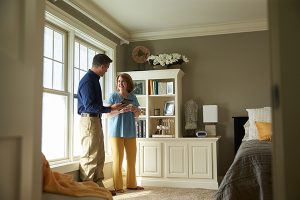 A major concern with hoarding is that of extensive clutter. Not only can this block off avenues of escape in the case of an emergency, but it poses a tipping hazard, as well. In addition to this, dangerous nuisances such as dust and mold can build up in these hard to clean areas, which can cause respiratory infections, allergic reactions, and worse.
In most cases, an individual that hoards items will not have the will-power to seek help on their own. There are many reasons for this, but the primary one that we see is simple; embarrassment. If you are a hoarder, we want you to know that we are here to help. If you are a friend or family member of a hoarder, we ask that you understand these difficulties, and intervene in a respectful way. The primary goal is to help the hoarder understand the risk that they are putting themselves, their friends, and their family in. Once this is done, it is more likely that they will hear you out.
With ServiceMaster of the Shore Area, you can expect the following:
Clutter Removal: We consult with affected individuals as we remove all unnecessary items.
Decontamination: Some areas that have had hoarded items may not have been cleaned for years, and you would be surprised by the things we find. This is why we fully decontaminate and sanitize the affected home before we leave.
Deodorization: Once the affected area has been cleaned, we will fully deodorize the property in order to restore it to livable conditions once more.
Proper Disposal: Whether it is throwing items away, recycling them, or donating them, we make sure to remove unneeded items properly. We are even licensed to handle biohazard materials.

We fully comply with rules and regulations set by the EPA, OSHA, and Department of Transportation.

Compassion: We always work with the utmost compassion and respect.
If you or a loved one has hoarding tendencies, and need professional help restoring your home, please feel free to give us a call here at ServiceMaster of the Shore Area. We are available 24 hours a day at (609) 445-2035, and proudly service those in the Ocean City, NJ, and Egg Harbor Township, NJ, areas.
---
Related Hoarding Cleaning Services
Hoarding Cleaning in Middletown, NJ
Hoarding Cleaning in Toms River, NJ
Hoarding Cleaning in Wildwood, NJ
Hoarding Cleaning in Manasquan and Brick, NJ