There are few things that give a room character like a freshly cleaned carpet and spotless upholstery. Perhaps this is because of the work that must go into maintaining these fabrics. While weekly cleaning is a mainstay on many household chore lists, this alone will not keep carpeting and upholstery in ideal conditions. Over time, dirt, dust, and debris can become lodged deep within the fibers of fabrics, and it takes professional cleaning to remove it. This is why we offer full carpet and upholstery cleaning services here at
ServiceMaster of the Shore Area
to property owners in the Ocean City, NJ, and Egg Harbor Township, NJ, areas.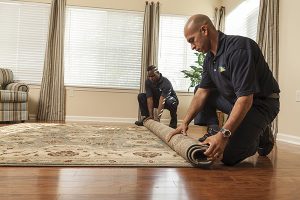 Everyday use can lead to discoloration and deterioration even in the most durable of fabrics. For carpets, heavy foot traffic is a nightmare; for upholstery, friction with rough clothing (such as denim and leather) is the nemesis. In both cases, continuous scraping and compression with course materials can do quite a bit of damage. When foreign objects, such as dust, dirt, and other debris, are added into the mix, the result is similar to sandpaper.
To counteract these effects, it is generally recommended to get your carpeting and upholstery professionally cleaned at least once per year. This is because professional cleaners, such as us here at ServiceMaster of the Shore Area, have access to state-of-the-art cleaning equipment and methodologies, like the hot water extraction method.
The hot water extraction method utilizes a mild, hot water cleaning solution that gets injected deep into the fibers of your fabrics, dislodges all manners of foreign objects that traditional vacuums simply cannot touch, and removes them promptly. However, hot water extraction is only one step in our industry-best carpet and upholstery cleaning services.
With ServiceMaster of the Shore Area, you can expect the following:
Quick Response and Open Communication: Our representatives are available by phone 24 hours a day, and can get a highly trained team of technicians to your location on short notice. As we work, we will keep you updated regarding our plans and progress.
Initial Inspection: In order to identify the best way to clean your carpeting and upholstery, we will first perform a thorough inspection of your fabrics.
Pre-Treatment: Once we have a better understanding of what exactly is needed to restore your carpeting and upholstery to their original condition, we will spray spots and stains.
Hot Water Extraction: This method of cleaning penetrates deep into the fibers of your fabrics, loosens previously lodged dirt, dust, and debris, and extracts these problematic elements.
Odor Removal: In the event that your carpeting or upholstery has an unsavory smell, we will work to eliminate the odor.
Scotch Guard Protection: We offer an optional Scotch Guard Protection treatment, as well.
Final Inspection: We perform a final inspection to ensure that your carpeting and upholstery is restored to the fullest extent possible.
If you would like to take advantage of our carpet and upholstery cleaning services here at ServiceMaster of the Shore Area, please feel free to give us a call at (609) 445-2035. We are available 24 hours a day, and respond with a specialized team of technicians as quickly as we can. We proudly service home and business owners alike in the Ocean City, NJ, and Egg Harbor Township, NJ, areas.
---
Related Carpet and Upholstery Cleaning Services
Carpet and Upholstery Cleaning in Wildwood, NJ
Carpet and Upholstery Cleaning in Manasquan and Brick, NJ