When a loved one or employee commits or attempts to commit suicide, finding a leading suicide clean up company in the Northeast Philadelphia area is essential. Suicide can traumatize the victims loved ones and co-workers and finding an expert who can clean, sanitize and deodorize the area removes a burden from their shoulders.
Rapid And Trained Response To Clean Suicide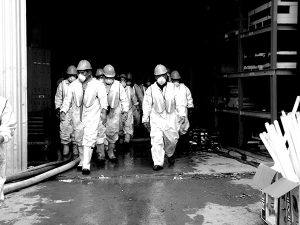 For over 15 years, ServiceMaster TEAM has been helping families, co-workers clean suicide. ServiceMaster TEAM will clean all biohazards from the scene and safely handle any firearms or weapons left behind. Our immediate response team will clean blood, bodily fluid and other biohazards from the area and restore the suicide crime scene back to its original condition. Arriving in unmarked cars to protect your privacy, we can arrive at your Philadelphia location within a few hours.  Suicide and attempted suicide cleanup will include:
Proper equipment: Our specialized crew will arrive with cleaning tools, protective gear and remediation disposal materials and will adhere to all local, state and government regulations related to cleaning up a crime scene.
Decontamination: Cleaning and scrubbing of blood, body parts and fluids.
Proper disposal: We will dispose of all biohazards in proper containers and transport them to a proper disposal facility.
Deodorization: Powerful deodorizers remove foul odors.
Continuous monitoring: Our quality control and communication plans set the standard in the suicide scene clean up industry, and they ensure your complete customer satisfaction.
Suicide Support Services
At ServiceMaster TEAM we empathize with the families and friends who's loved one takes or attempts to take their own life. Speaking with a professional often helps one deal with the feelings and difficulties of the situation. We can refer family members to suicide Philadelphia support services with counselors trained to offer support when the traumatic pressures of suicide become too overwhelming.
If you need assistance with professional suicide clean up services in the Northeast Philadelphia area, call our live operators any time day or night at (215) 399-4866. We will dispatch a suicide clean up team to your location.