ServiceMaster TEAM's certified technicians offer quality professional death cleanup services to Northeast Philadelphia, PA. Death and unattended death scenes can emotionally traumatize those that suddenly discover a decomposing corpse. When death cleanup is necessary as a result of a crime, it can be particularly painful for the victim's family, loved ones and co-workers. Regardless of whether the body is recently deceased or has been dead for several days or months, it is critically important to call a licensed professionally qualified death cleanup provider.
Death Clean Up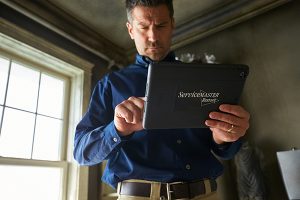 Left exposed to the elements, a dead body decomposes very quickly, and few are emotionally prepared for the sights and odors that accompany a death clean up scene. When someone dies alone it's termed an "unattended death", and it may be several days or months before the body is found creating foul odors. Sometimes a death clean up scene may be the result of a criminal act. If so, our trained technicians will clean up after death and will work with law enforcement to make sure any evidence is recovered properly.
ServiceMaster TEAM provides the following types of death scene cleanup services to Northeast Philadelphia:
Unattended Death cleanup
Homicide cleanup
Suicide cleanup
Crime Scene cleanup
Trauma Scene cleanup
Accidental Death cleanup
Crime and Death Scene Cleaning
Our crews will wear personal protection equipment, (PPE), and begin the crime anddeath scene cleaning process by arriving in an unmarked vehicle to protect your privacy.  We quickly begin to clean up after death by establishing a communication plan and assessing the scope of work. Below are some of the key steps we take to ensure total customer satisfaction.
Remove any furniture, flooring or wall coverings that may have been contaminated
Scour and disinfect the crime and death scene cleaning area with commercial grade cleaning solutions
Remove all stains using special cleaning tools
Apply commercial grade deodorizers to remove foul odors
Apply powerful decontaminants to stop the spread of infection from blood borne pathogens and exposed body parts
Safely dispose and transport all bio hazards in compliance with federal and state law
Provide insurance assistance in the event a claim can be made
Call a Professional Death Clean up Company You Can Trust
At ServiceMaster TEAM we understand that the traumatic events associated with death scene cleanup can last long after the initial shock of discovery is over and our crews leave the scene. For those who knew the victim in life or discovered the victim's body, the trauma can become emotionally overwhelming and lead to serious mental consequences. We often refer family, loved ones and co-workers to counseling professionals skilled in helping those suffering from the emotional trauma cope that can result from suicide, homicide or unattended death.
If you need assistance with professional death cleanup services in the Northeast Philadelphia area, call our live operators any time day or night at (215) 399-4866. We will dispatch a death cleanup team to your location.