When catastrophe strikes, Northeast Philadelphia residents can rely on ServiceMaster TEAM's bio recovery services to help them cope with the trauma associated with horrific events such as homicide, suicide or other violent crime. Our licensed and bonded biohazard cleanup technicians have years of experience dealing with crime and death scenes and are thoroughly trained in biohazard clean up. At ServiceMaster TEAM our specialists work together with families, law enforcement and insurance professionals to provide safe bio recoveryservices. Our goal is to achieve the best possible outcome for our customers coping with the trauma left after death, homicide, suicide or other accidental death.
Northeast Philadelphia's Biohazard Cleanup Specialists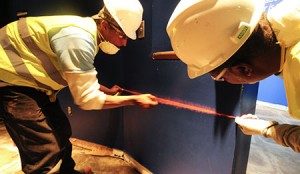 Once a crime or death scene is discovered, it is important to call a professional biohazard cleanup company immediately. A biohazard is defined as any substance that is potentially harmful to humans or to the environment. In order to avoid contamination from biohazards such as blood, body parts or bodily fluid, it is important to call a company with specialized training in bio recovery procedures. Our professional biohazard cleanup process includes the proper transport and disposal of all blood borne pathogens and reduces the risk of future litigation by those that may unwittingly come in contact with the biohazard.
Bio Recovery Services You Can Trust
We arrive discreetly in unmarked vehicles protecting our customers' privacy, and our biohazard cleanup technicians go to work immediately sanitizing, disinfecting and deodorizing the biohazard cleanup area ensuring all biohazard such as blood, tear gas or pepper spray are eliminated. ServiceMaster TEAM relieves owners, managers, co-workers, families or friends from the severe emotional trauma and physical danger of biohazard clean up. Our highly trained technicians are on call 24-hours a day to rapidly recover a scene and return a property to safe use.
How Does the Biohazard Cleanup Process Work?
Our highly trained specialists will complete the following tasks to remediate bio hazards in your home or office.
Sanitize and remove all bio hazards from any surface including floors, carpets and vehicle interiors
Safely transport all harmful contaminants to a safe and compliant disposal site
Implement quality control procedures including final customer sign-off
Provide insurance assistance in the event a claim can be made
We provide bio recovery services in the following situations:
Crime Scene Clean Up
Death Cleanup
Blood Clean Up
Trauma Cleanup
Homicide Cleanup
Suicide Clean Up
Biohazard Cleanup
Hoarding Clean Up
If you need assistance with bio clean services, call us at (215) 399-4866. We will dispatch a team to your location. Northeast Philadelphia residents can reach a live operator 24 hours a day, 7 days a week, 365 days a year and in most cases we can arrive at your location in a few hours.