Crimes are committed everyday throughout the country and violent crimes leave behind a scene that is very dangerous for bystanders.  These crime scenes usually contain blood and other bodily fluids that can spread infection and disease and if the scene is not dealt with properly, it could affect the crime scene investigation as well.  ServiceMaster Restoration by Complete provides effective crime scene cleanup services for Newark, NJ and the surrounding areas to safely clean and restore crime scenes with our well-developed procedure.
ServiceMaster Restoration by Complete is a trusted crime scene cleaning service provider and our technicians are specially trained to clean and restore crime scenes while protecting the evidence and avoiding cross-contamination.  We work in cooperation with law enforcement as they carry out their investigation and eliminate the physical evidence of the violent act to help ease the emotional stress of the friends and family of the victim.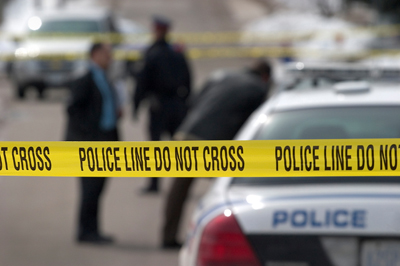 Crime Scene Cleanup Management from ServiceMaster Restoration by Complete
A soon as you call ServiceMaster Restoration by Complete, we will dispatch a team of our highly trained technicians to the scene to begin the restoration.  We use the most advanced cleaning equipment, personal protective equipment, and powerful decontaminates to completely remove all biohazard materials including blood, tissues, and other bodily fluids and restore the scene to a safe condition.
The crime scene cleaning services we provide include:
Decontamination: All harmful materials including blood, tissues, bodily fluids, and others are removed and the area is decontaminated.
Odor Removal: Our powerful deodorizers will remove any lingering odors.
Proper Disposal: We transport all biohazard materials in the proper containers to a licensed facility that safely disposes of the material.
Continuous Monitoring: Our quality control and communication plans set us apart in the industry and help us finish the job effectively.
Insurance Assistance: We can help coordinate any claims between you and your insurance provider.
Family Assistance and Support: We can help friends and family members of the victim find support by referring them to counseling professionals.
Certified Technicians: Our technicians are certified to handle crime scene cleaning services in compliance with local, state, and government regulations.
ServiceMaster Restoration by Complete is one of the most trusted names in crime scene cleaning and we have been providing these services nationwide for almost 20 years.  If a crime has taken place on your property in Newark, NJ, make sure to call us right away at (732) 751-4004.  We are standing by 24 hours a day to dispatch a team of technicians to your location.