Blood is one of the most common bodily fluids encountered from minor injuries and accidents to major accidents and deaths and regardless of the scenario, blood should be treated like a biohazard material.  It is possible for blood to contain viruses, bacteria, and other pathogens that can spread disease and infection and if blood is handled improperly, the risk of spreading disease or infection greatly increases.  ServiceMaster Restoration by Complete provides blood cleanup services in Newark, NJ and the surrounding area to clean up and remove blood from the scene of an accident, injury, or death.  We have been a trusted name for blood cleanup services since 2001 and we can also deodorize and disinfect the scene once the blood is removed.
Reliable Blood Cleaning Services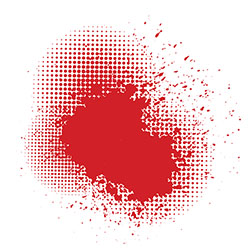 Our technicians have a strong commitment that sets us apart from other companies to completely remove blood, plasma, and other bodily fluids as well as disinfect the scene.  We use a powerful bio wash solution to scour affected surfaces after we remove the blood and then decontaminate, sanitize, and deodorize the area with our 3-step cleaning process.  Heavily stained or damaged materials including flooring, curtains, and other furnishings are removed from the scene to be salvaged or disposed of depending on the extent of the damage.  We provide blood cleaning services for the following scenarios:
Crime Scenes
Death Cleaning
Homicide Cleaning
Suicide Cleaning
Trauma Scene Cleaning
Biohazard Cleanup
Hoarding Cleaning
Bio Recovery Services
Our 3-step blood cleaning process includes the following:
Decontamination: All blood, tissues, and other bodily fluids are removed from accident and death scenes to prevent the spread of disease and infection.
Deodorization: Strong odors are removed using powerful deodorizers.
Proper Disposal: Blood, plasma, and other materials are transported to a licensed facility in the proper containers for safe disposal.
Continuous Monitoring: Our quality control and communication plans keep us focused on completing the job effectively.
Insurance Assistance: We help you file insurance claims by working with law enforcement and insurance companies.
Confidential Family Assistance and Support: We put family members and friends of the victim in touch with professional counselors to provide support through the grieving process.
Safe Procedures: We use safe cleaning methods that are in compliance with state and federal laws.
Professional Blood Cleaning
Attempting to clean up blood on your own after an injury or death is not only dangerous, but it can also be difficult emotionally for friends or family members to even be on the scene.  Make sure to call ServiceMaster Restoration by Complete to safely clean up and restore trauma scenes with our blood cleanup services in Newark, NJ.  You can reach us 24 hours a day at (732) 751-4004 for a quick response in the Newark, NJ area.