If you encounter a scenario in which there are biohazard materials that need to be cleaned up, it is best to avoid contact with the materials and call a professional that can safely remove them.  Biohazard materials are biological substances that can cause disease or infection in humans and they may include blood and bodily fluids as well as sewage, mold, and other dangerous materials.  The professionals of
ServiceMaster Restoration by Complete
 provide
biohazard clean up services in Newark, NJ
to safely remove all types of biohazard materials and disinfect the area.
Why Call a Professional Biohazard Cleaning Company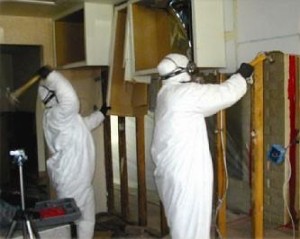 Biological materials are all potentially dangerous and if you encounter them, you must treat them as a serious threat and take extreme caution.  If you try to clean up biological materials yourself without the proper training, you will greatly increase your risk of exposure or cross-contamination as well as the risk of spreading disease and infection to others.
ServiceMaster Restoration by Complete has been a leading provider of biohazard cleaning services since 2001 and our technicians are highly trained to remove biohazard materials and fully clean and restore the area.  We are certified and equipped to provide biohazard cleaning services for the following scenarios:
Hoarding Cleaning
Crime Scene Cleaning
Homicide Cleanup
Death Cleanup
Suicide Cleanup
Trauma Scene Cleaning
After Death Cleaning
Blood Cleanup
Bio Recovery Services
What to Expect from ServiceMaster Restoration by Complete
Our technicians can remove any type of biohazard materials in addition to tear gas and pepper spray and we will also sanitize, disinfect, and deodorize the area to make it safe to enter.  All biohazard materials that we remove are transported in the proper containers to a licensed facility that specializes in disposing medical waste.  We also provide insurance assistance to help you coordinate your claims with your insurance provider.
You can reach us anytime 24 hours a day at (732) 751-4004 for biohazard clean up services in Newark, NJ and the surrounding area.