ServiceMaster Kwik Restore
The residents of Wisconsin are certainly no strangers to snowstorms during the colder months. But freezing temperatures and heavy snow can certainly do a lot of damage to one's property. After a large storm, it is probable that the roof of your home is supporting a lot of weight from the snow. But for older homes, property owners are facing the risk of having their roof collapse. When this happens, not only will it need to be prepared but the snow will melt in the attic or on the first floor, creating severe water damage. This is why ServiceMaster Kwik Restore is available in the New Berlin, WI area to provide emergency storm damage restoration services. Our technicians will arrive within 2 hours of your initial call to immediately repair the damage and restore the affected area.
Snow and Water Damage Restoration
While it may look pretty, snow is associated with a number of problems. It will make driving difficult, create slippery conditions, and even prevent you from leaving your house by blocking the door. While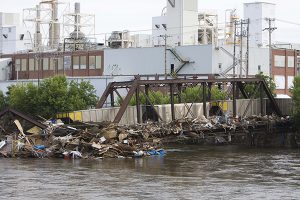 these issues are challenging to handle, they can also cause destruction, damaging the walls, floors, ceilings, and exterior building materials of your property. However, ServiceMaster Kwik Restore provides an effective solution to restore all damage and repair the building structure with storm damage restoration services. They will arrive immediately to board up the affected area, contain the damage, extract any standing water, and dry out the affected surfaces. Our technicians have years of experience in rebuilding both commercial and residential properties, ensuring that all time and repair costs are minimized in the restoration process.
Restoration from Blizzards
While the southern Wisconsin area does not receive many tornadoes, the wind can certainly knock down a number of large heavy objects, such as trees, telephone poles, signs, street lights, and more. If any of these have fallen on your building or home, the damage can be severe and spread as the snow will seep into the exposed areas of your property. When this happens, it is imperative to call ServiceMaster Kwik Restore to repair the damage and restore the affected surfaces so you are not faced with additional costs in the future. Our technicians are certified and experienced to use advanced equipment and products that are guaranteed to return your property to its original condition as quickly as possible.
Our storm damage restoration services cover all of the following:
Emergency board up and tarping services
Repair of interior and exterior structure
Removal of debris around the property (glass, leaves, sticks, branches, rocks, etc.)
Containment of water or fire damage to the affected area
Restoration of all affected building materials
Rain and Wind Damage
While blizzards only occur throughout the winter months, property owners are still faced with strong winds, floods, and rainstorms during the spring and summer. Although it may not be cold, the wind and rain can rip away the siding, carry debris to break windows, and blow over large objects such as trees and telephone poles. If your home or building has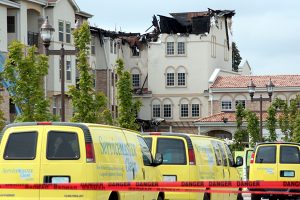 been severely damaged by a storm, it is essential to call for emergency reconstruction and restoration services right away. ServiceMaster Kwik Restore will respond immediately to repair all damage caused by strong storms. Our technicians are trained, experienced, and licensed in both reconstruction and restoration services to repair all areas of your property.
When a natural disaster leaves your home in an unstable condition, contact ServiceMaster Kwik Restore at (262)395-7793 for emergency storm damage restoration services in the New Berlin, WI area. We are available 24/7.