ServiceMaster Kwik Restore
Mold is useful when it comes to making cheese, but not in your home or business. Not only is it unsightly, but it will deteriorate building materials, irritate your eyes and throat, and cause respiratory problems. Areas that have excess moisture are prime breeding grounds for mold growth, and unlike edible mushrooms, mold spores don't need to be inoculated into a growing medium. They naturally occur in the air, just waiting for the right opportunity to grow. However, ServiceMaster Kwik Restore offers a solution with professional mold removal services.
Mold Damage Restoration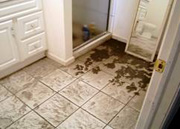 ServiceMaster Kwik Restore provides comprehensive mold remediation to commercial and residential clients in New Berlin, WI. Our highly trained specialists will eradicate all traces of mold, even from places you can't see, using advanced cleaning products and equipment. Our testing equipment ensures that we won't miss anything, even hidden places such as corners and inside walls. Cleaning mold is not a DIY project, nor is it removed by simply using ordinary cleaning products. Commercially available cleansers and equipment are not strong enough to wipe out mold. Without the right protective gear and training, it is easy to come in contact with hazardous spores, spreading them throughout your home or business.
Mold Restoration – What to Do
Call ServiceMaster Kwik Restore for quick mold damage cleanup services and to eliminate future damage.
Allow for proper air circulation throughout the property by turning on the dehumidifier or fan.
Wear eye wear, glasses, and gloves when present around the mold.
Wipe off any unaffected surfaces containing condensation.
Close any exterior windows and doors if conditions outside are wet.
Mold Damage Repair – What NOT to Do
Do not use any DIY cleaning methods to remove the mold yourself. Doing so will only cause it to release its spores and/or retreat further within the affected area.
Do not touch any visible mold.
Do not try to caulk or paint over any areas affected by mold.
Do not place a fan directly over the mold.
ServiceMaster 5-Step Mold Removal Service includes:
Mold testing and assessment of the damage
Development of a comprehensive remediation plan
Containment of the mold growth to the affected area
Comprehensive mold remediation using the best cleaning products and equipment available to the industry
Complete report of our findings to your insurance company
Mold does more to your home or business than cause cosmetic problems. Left untreated, it can damage building materials and cause health problems for residents and customers. Let ServiceMaster Kwik Restore performs mold remediation safely and effectively. Our technicians have the training to remove all traces of mold without spreading it or infecting themselves or others. Call ServiceMaster Kwik Restore at (262) 395-7793 for professional mold removal services in New Berlin, WI 53151 area. We are available 24 hours a day, 7 days a week.