ServiceMaster Kwik Restore
Hoarding is a unique mental disorder that can have serious consequences not only for the individual, but for their family as well.  Individuals that struggle with hoarding have severe anxiety issues that prevent them from throwing away any item that is in their home, regardless of the item's value or usefulness.  As a result, a wide range of items such as: food containers, newspapers, appliances, and furniture clutter the home.  The hoard of items creates a dangerous environment through cluttering, increasing the risk of injuries, and providing conditions for the growth of mold and bacteria; these factors can all lead to negative health effects.  ServiceMaster Kwik Restore provides hoarding cleaning services to help those affected by hoarding in New Berlin, WI to clean out and sanitize their homes.
Taking a Compassionate Approach to Hoarding
It is important to remember that hoarding is a mental disorder and those affected will not seek help for themselves.  A trusted friend or family member must reach out to the individual before calling our professionals for cleaning services. The technicians at ServiceMaster Kwik Restore are experienced to handle all hoarding cleanup projects. We use advanced cleaning equipment to ensure that the home is effectively cleaned, deodorized, and sanitized.  The cleaning process is started first by forming a personal connection with the affected individual to earn their trust. Once this is established, the cleaning plan is created with the approval of the individual and their family. As we sort through the hoarded items, we provide the final decision on whether each item should be kept, thrown away, recycled, or donated to the affected individual.
Cleanup from the Hoarded Items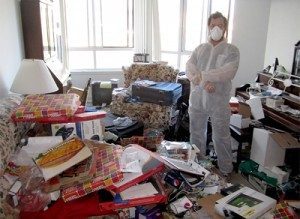 The technicians of ServiceMaster Kwik Restore are licensed and insured to work on hoarding cleaning projects with our top-of-the-line cleaning products and personal protective equipment (PPE) for safety. We make work to stay within the guidelines of OSHA, the EPA, and the Department of Transportation.
Our hoarding cleaning services include these basic steps:
Decontamination: We completely clean and decontaminate the home after all unwanted hoarded items are removed. We are equipped to clean up biohazard materials including dead animals, bacteria, and mold.
Deodorization: We have powerful deodorizers that can remove all lingering odors.
Proper Disposal: We will dispose, recycle, or donate unwanted hoarded items and properly transport biohazard materials to a licensed medical waste facility.
The effects of hoarding cannot be ignored for too long because they lead to dangerous and unsanitary conditions in a home. This increases the risk of injuries, fires, and negative health effects.  You must discuss the possibility of hoarding cleaning with the affected individual before calling our professionals for assistance.  ServiceMaster Kwik Restore will effectively clean and disinfect the homes of hoarders in New Berlin, WI and we approach the affected individual with a sense of compassion and respect.
We are available 24 hours a day, 7 days a week at (262) 395-7793 in New Berlin, WI and the surrounding communities. Call us to learn more about our hoarding cleaning services.