ServiceMaster Kwik Restore
Fires can quickly causes a great deal of damage, but what many people don't realize is that the damage continues to occur even after the flames are out. Burning synthetics, soot, and remnants from fighting the fire will etch and tarnish common household surfaces. The damage can then become permanent within days without proper restoration. Smoke will spread into areas of the home that were initially unaffected by the fire, soaking deep into upholstery, carpets, and other fabrics. However, ServiceMaster Kwik Restore will be with you every step of the recovery process through fire, smoke, and soot damage restoration.
Soot and Fire Damage Cleanup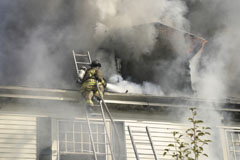 ServiceMaster Kwik Restore provides fire damage restoration to residential and commercial clients in New Berlin, WI who have experienced both large and small fires. We use advanced equipment and cleaning products to safely restore all damaged property.
Our technicians at ServiceMaster Kwik Restore are certified by the Institute of Inspection, Cleaning, and Restoration Certification (IICRC) in order to provide the highest quality of fire damage restoration services. They are trained in the latest techniques in providing corrosion control, neutralization, deodorization, and content cleaning to safely restore surfaces and items that have suffered smoke, soot, and toxic fume damage.
Restoring Homes and Buildings from Soot Damage
The damage from a fire will disappear on its own; no amount of "airing out" will remove the overpowering stench of smoke. Many furnishings and personal items are made from synthetics, which give off toxic fumes when burned. These toxins will eat away at surfaces while smoke continues to spread throughout the building. This damage will then become irreparable within days. Commercially available cleaners and equipment are not strong enough to clean this kind of disaster and most people do not have the time or necessary training to do the work themselves. The professionals at ServiceMaster Restoration Services will restore even the most hopeless-looking items, using strong, but gentle cleansers and equipment for effective fire damage restoration. We arrive onsite quickly to stop the spread of the damage and keep it from ruining items forever.
Fire Damage Cleanup – What to Do
Call ServiceMaster Kwik Restore immediately for fire restoration services and to limit the spread of smoke and soot damage.
Keep foot traffic within the affected areas to a minimum to prevent the soot from settling in further.
Cover the supply and return registers with two layers of cheesecloth.
Change the filters on the air duct system.
Wipe of any plant leaves, blinds, drapes, furniture, and tables of any soot.
Use light coat of petroleum jelly or light oil to remove the soot from any chrome faucets in the bathroom or kitchen.
Remove any pets from the property before the technicians arrive.
Throw away any open food containers that were near the fire.
Cover any furniture, upholstery, and art objects with bedsheets to prevent extra soot from settling into the affected materials.
Fire Damage Repair – What NOT to Do
Do not use any electrical appliances or other devices until thoroughly inspected by a fire restoration technician.
Do not try to clean anything yourself as any improper cleaning procedures can cause further damage to the affected surfaces.
Do not eat any food from the pantry, cabinets, refrigerator, or freezer that was present during the time of the fire.
The ServiceMaster 5-step fire damage restoration includes:
Emergency pre-cleaning
Content cleaning
Content pack-out
Wall and ceiling cleaning
Deodorization
When a fire breaks out, the first priority is to evacuate everyone safely. Do not stop to call 911; call from a nearby building. Once the flames are extinguished and everyone is safe, call ServiceMaster Kwik Restore. We are available 24 hours a day, 7 days a week at (262) 395-7793 for fire damage restoration and soot cleanup services in the New Berlin, WI 53151 area. With a fast response time, we will prevent the damage from spreading in order to restore your home or business as quickly as possible.