ServiceMaster of Aurora own over thirty ServiceMaster Clean franchise licenses that are operated from 8 branch offices in Illinois. ServiceMaster of Aurora is one of the largest operators of ServiceMaster Clean franchised businesses in the United States.  ServiceMaster of Aurora meets the stringent demands of the ServiceMaster Clean brand and is recognized as a leader in performance, service, and quality. They can handle any large-scale losses as well as commercial and residential restoration services.  Their main services in Illinois include disaster restoration, fire damage restoration, water damage restoration, mold remediation, carpet cleaning and more.
ServiceMaster of Aurora are accessible 24 hours per day, 365 days per year. In most cases, they will schedule emergency smoke and fire restoration services (in Illinois) within three hours of your initial call.

Water Damage Restoration – Naperville, IL
Sometimes water damage can start small but even minor cases of water damage can become major problems as it gets absorbed into porous building materials and spreads throughout the building.  There are many potential causes of water damage including flooding, rain, plumbing issues, burst pipes, and sewage backups and they all require immediate attention to prevent more widespread damage.  ServiceMaster of Aurora provides water damage restoration services to remove excess water from homes and businesses in Naperville, IL.  Our technicians can effectively remove moisture and water from the structural elements, furnishings, and content as well as repair the resulting damage.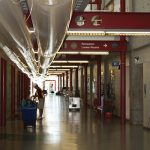 Sewage Cleaning – Naperville, IL
Water damage is a common problem that could lead to structural damage and mold growth in the home, and the situation is more complicated if there is sewage involved as well.  Sewage can get into your home from a sewage backup or if it has mixed with flood water that enters your home.  Cleaning up water with sewage is dangerous because sewage contains harmful materials like microorganisms and other disease causing agents.  ServiceMaster of Aurora provides sewage backup cleaning services to safely remove sewage water from homes in Naperville, IL.  Our technicians will not only remove all sewage water with our advanced equipment, but also thoroughly clean the area to remove waste buildup and odors.

Fire Damage Restoration – Naperville, IL
Homes and buildings are at risk for a fire at virtually any time and fires can cause several layers of damage while putting those inside at serious risk.  The fire itself causes charring while the smoke and soot can spread beyond the fire itself to cause tarnishing and etching that will become permanent without quick enough restoration.  ServiceMaster of Aurora provides fire damage restoration services to help repair and restore homes and buildings damaged by fire in Naperville, IL.  Our technicians respond quickly to help minimize the spread of the damage and we can fully clean, restore, and deodorize your home or building back to its original condition.

Mold Remediation – Naperville, IL
Mold growth is not only a threat to cause significant property damage in your home, but it can also trigger negative health reactions in those that are exposed.  It only takes moist or wet conditions and an organic food source for mold to grow and if you have recently dealt with water damage, the risk for developing mold is much greater.  ServiceMaster of Aurora provides mold remediation services in Naperville, IL to remove mold growth from homes and buildings.  Our technicians will isolate the contamination to protect the rest of your home and repair or replace the damaged surfaces once the mold is removed.

Flood and Fire Large Loss – Naperville, IL
A natural disaster can be especially difficult for businesses because they can lose money by halting business operations as well as by paying for the restoration and repairs of the damage.  When a significant disaster such as a flood or fire strikes a business, a quick reaction will help save the company time and money.  ServiceMaster of Aurora is ready to help businesses in Naperville, IL that have sustained damage in a disaster with our flood and fire large loss restoration services.  Our technicians will respond quickly to help restore the furnishings, content, and structural elements in your building so you can get your business back to its daily activities.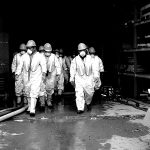 Trauma Scene Cleaning – Naperville, IL
Encountering the aftermath of a violent crime or accident is quite a shock and it is also very dangerous.  When discovering such a scene, you must do what you can to protect your health and call 911 immediately for law enforcement and EMTs to respond to the scene.  Blood, bodily fluids, and other biohazard materials commonly found at these scenes can cause serious health issues if they are mishandled, making it important to also call a licensed restoration professional.  ServiceMaster of Aurora provides trauma scene cleaning services in Naperville, IL to remove biohazard materials as well as clean and disinfect the scene of a major injury or death.  You can trust or professionals to completely restore the area to its previous condition and we take a compassionate and respectful approach to help ease the burden of those who have experienced a loss.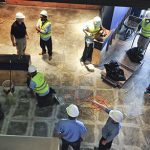 Emergency Board Up – Naperville, IL
Major disasters are always a risk to cause devastating structural or exterior damage to your home or building and if the building is left in a heavily damaged state, the situation can become much worse.  Homes and buildings with compromised structures are in danger of collapse and if the disaster has damaged the siding, roof, or windows, the building could be vulnerable to outside sources of damage like vandals and the weather.  ServiceMaster of Aurora provides emergency board up services to help stabilize damaged homes and buildings in Naperville, IL and board up openings in the siding and roof to keep out the weather and vandals.  Our technicians will ensure that your home or building is secure until it can be properly rebuilt.
ServiceMaster of Aurora: "We have completed tens of thousands of successful fire and water clean up projects. We have the experience and expertise to help you when fire or water damage occurs. Because we know you need a fire or water removal company to get the job done now and get it done right. We are that company".