You only get one chance to make a first impression, so it's important that your customers get the right impression of your business. The condition of the carpeting and floors in your business can help or hurt that impression. A filthy, smelly carpet or dirty floors make people think you don't care about your company's image, or you can't afford to take care of it. It might be enough to drive them straight to your competition, which is the last thing you want. Floors and carpets naturally accumulate dirt and debris, but they need regular cleanings to avoid triggering allergies and causing health problems.
ServiceMaster of the Shore Area provides a wide range of commercial cleaning services for businesses in Middletown, NJ to help maintain a tidy, sanitary environment for clients and employees. Our technicians can provide a one-time cleaning service, or we can work with you to develop a comprehensive cleaning schedule that will keep your business looking its best at all times.
Commercial Carpet and Floor Cleaning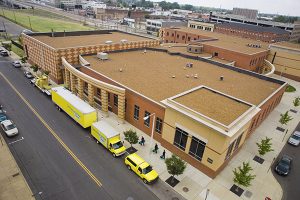 You might think people would notice the furniture or artwork in your office first, but you'd be wrong. One of the first things people see are the floors, and if they're dirty, dingy, or otherwise unattractive, they make the entire room look awful. It's the same way a good interview suit can be ruined by cheap shoes.
ServiceMaster of the Shore Area offers professional cleaning services for a variety of commercial buildings. We use only the most advanced equipment and cleaning products available in the industry to thoroughly but gently remove dirt, stains, and odors from all types of flooring to restore their original beauty.
ServiceMaster of the Shore Area's commercial floor cleaning services include:
Area rugs
Carpets
Cement
Hardwood
Laminate
Tile and grout
Hot Water Extraction Method
We use the hot water extraction method to remove dirt and stains from upholstery and carpeting. A mild, yet effective detergent is mixed with hot water and applied to carpets using a specialized applicator wand. The solution loosens deeply embedded dirt and debris and sanitizes the fibers. The wand extracts all traces of dirt, debris, and excess water into a truck-mounted holding tank which is emptied off site. This method ensures that your carpets are dry without any traces of residue within 24 hours.
Having a neat, clean, and orderly business is an important part of retaining both employees and customers. Many companies aren't big enough to have a dedicated cleaning staff, and asking their employees to do routine maintenance takes too much time away from the duties that make the company money. ServiceMaster of the Shore Area can provide any type of cleaning services you need, from a one-time cleaning project to routine cleanings on a schedule that suits you best. Call us at (732) 722-5858 for the best commercial cleaning services in Middletown, NJ.